Amazon FBM and Amazon FBA - Which One Suits Your Business Best?
Finding products to sell as Amazon sellers nowadays is the most challenging aspect. Amazon has marketplaces with over 200 million customers worldwide. That means product differentiation is challenging, to say the least.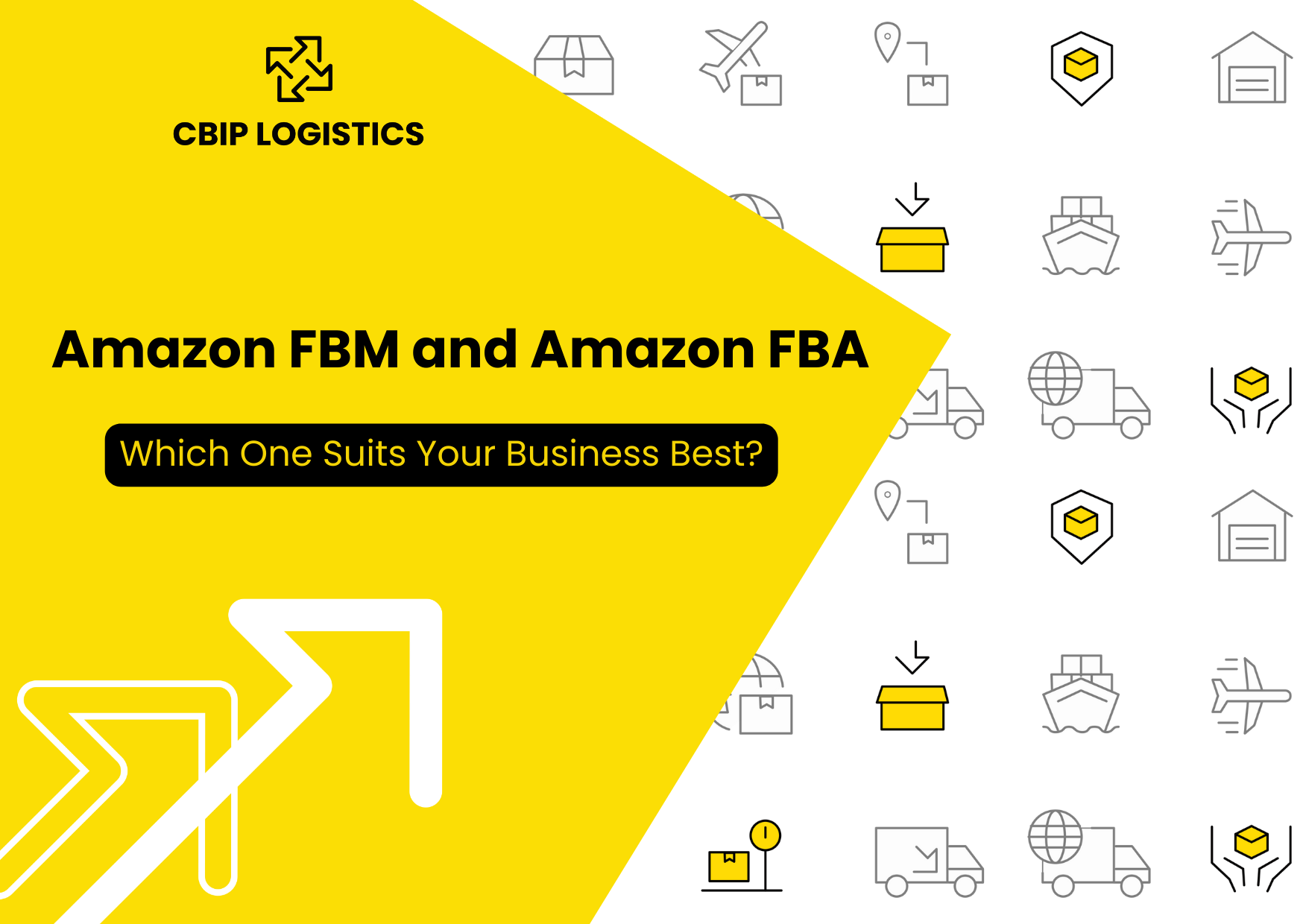 So, how can you win customers in such a saturated market place? You deliver value through getting the logistics right — nail the logistics, and you're that much more likely to win returning customers. When it comes to the logistics part, Amazon sellers have two fulfillment options. You can either fulfill orders by yourselves as merchants (FBM), or choose to let Amazon take the reigns with Fulfillment by Amazon (FBA).
Click here to learn what we mean by fulfillment
To help you decide, I'd like to talk a little about the pros, cons, and considerations for each method.. Read on for a deep dive on what each type of fulfillment looks like.
What is Fulfillment by Amazon?
Fulfillment by Amazon, or FBA, is a service offered by Amazon to third-party sellers on their platform. When you elect to use FBA,you as the seller can store your products in Amazon's fulfillment centers. Amazon then takes care of various aspects of the order fulfillment process, including storage, packing, shipping, and customer service.
Here's how it works:
Step 1: Product Storage
Sellers send their inventory to Amazon's fulfillment centers, where it is stored until it is sold.
Step 2: Order Processing
When a customer places an order for one of the seller's products, Amazon takes care of picking, packing, and shipping the product to the customer on behalf of the seller.
Step 3: Shipping and Delivery
Amazon uses its extensive logistics network to deliver the product to the customer, often offering fast and reliable shipping options, including Amazon Prime's two-day or one-day shipping.
Step 4: Customer Service
Amazon handles customer inquiries and returns related to FBA orders, providing customer support on behalf of the seller.
Pros of selling via FBA
FBA offers several advantages to sellers, including the convenience of having Amazon handle logistics and customer service, access to Amazon Prime customers, and the ability to scale their business more easily. Below are a few more important advantages to using FBA.
Prime Eligibility
Products fulfilled by Amazon are often eligible for Amazon Prime, which can attract a larger customer base. Prime members tend to favor products with fast and free shipping, leading to increased sales.
Amazon's Reputation
FBA products often benefit from Amazon's trusted reputation. Most shoppers, including ourselves when we act as buyers, are more likely to buy listings that are fulfilled by Amazon. This means, as Amazon sellers, you can increase your conversion rate and sales.
Simplified Logistics
FBA handles the warehousing, packing, and shipping of products. This can save you a significant amount of time and effort, allowing you to focus on other aspects of your business, such as marketing and product development.
Cons of selling via FBA
Despite the added convenience and customer service advantages, FBA also comes with fees and certain limitations. As an Amazon seller, you should carefully consider the following cons to decide whether FBA is the right fulfillment method for your products and business model.
Complex Fee Structure
Rate cards can be a confusing and frustrating part of managing logistics, and Amazon's rates are no exception. Amazon's rate card structure can be complex, with various types of fees, including referral fees, fulfillment fees, storage fees, and more. Understanding and effectively managing these fees adds time and mental load to your ops management.
Storage Fees and Long-Term Storage Fees
FBA charges storage fees based on the space your products occupy in their fulfillment centers. If your inventory doesn't move quickly, these fees can add up, especially if you have a large and slow-moving inventory. Plus, if your products remain in Amazon's warehouses for an extended period, you may incur long-term storage fees. These fees can rack up quickly, and it's crucial to manage your inventory to avoid them.
Limited Customization
As your brand scales up, you may want to add more value to your customers or personalize orders, for example, by using branded boxes or including small gifts to show appreciation. With FBA, you have limited control over packaging and branding. Your products are often packed in standard Amazon boxes, and you have less flexibility to create a unique unboxing experience or include customized marketing materials.
What is Fulfilled by Merchant?
FBM is an order fulfillment method on Amazon where the seller handles the storage, packing, shipping, and customer service of their products. In FBM, the seller is not using Amazon's fulfillment centers or services. Instead, you as the seller handle all aspects of the order fulfillment process yourself, or go through third-party or fourth-party logistics providers (3PLs/4PLs).
Pros of Selling via FBM
Greater Control
This is one of the pros that every Amazon seller we work with mentions consistently; They have complete control over their entire fulfillment process, from storage and packing to shipping and customer service. For example, when a customer complains about the shipping of orders, you can easily contact a third-party fulfillment partner to resolve the issue. In contrast, with Amazon, this might take longer, as your request needs to be queued with Amazon's Customer Service team. Additionally, this level of control allows sellers to maintain their branding, packaging, and shipping methods according to their preferences and standards.
Lower Fulfillment Cost
This is especially significant for large, bulky, or slow-moving products sold on Amazon. As of 2021, Amazon introduced storage allocation limits, resulting in higher fees for large or slow-moving products, as mentioned in the "Cons of Selling via FBA". Among the fulfillment elements, storage costs in particular can significantly impact your profit margins.
Flexibility
Flexibility is a huge plus for many Amazon sellers. It means they can easily manage their stock and shipping to match what customers want or adjust to market changes. This is super useful for businesses with products that are popular at certain times, or when demand goes up and down.
Cons of Selling via FBM
Limited Prime Eligibility
FBM products are not automatically eligible for Amazon Prime benefits, such as fast and free shipping. Prime-eligible products, typically fulfilled by Amazon (FBA), often receive preferential placement in search results and may attract a larger customer base.
Customer Trust
Some customers may prefer products fulfilled by Amazon (FBA) because they trust Amazon's reliable and consistent fulfillment services. As an FBM seller, you may need to put in more effort to establish and maintain trust with customers through excellent packaging, accurate shipping, and responsive customer service.
What Is the Best Fit for Your Business?
Fortunately, selling on Amazon doesn't restrict you to just one fulfillment method; You can use both approaches at the same time. However, if you want to use both FBA and FBM, I'd recommend going through the following three steps to make sure you know what you are getting into.
1. Determine Which Items to Use FBA and FBM For
It's important to carefully analyze and document which SKUs are your "strongholds"— aka the fast-selling SKUs that should be assigned to FBA. For slower-selling SKUs, consider utilizing FBM.
2. Prioritize Your Best-Selling Products for FBA
Your top-selling products should be processed through FBA. This approach can help reduce your workload and, over time, increase your FBA limits by maintaining a high sales volume. Review your sales data to identify your best sellers and select those that make the most sense for FBA.
3. Partner with a Trusted 4PL to Streamline FBM and Optimize Your Amazon Strategy
To avoid unnecessary complications when selling on Amazon, partnering with 4PLs can be a smart strategy for your business. At CBIP, we can serve as your reliable 4PL partner, whether you're selling on Amazon via FBA or FBM.
- When using FBA, CBIP can prepare your FBA items to ensure they meet Amazon's requirements. Based on past experiences, Amazon has a high rejection rate, so we have dedicated experts who handle Amazon Prep effectively.
- When using FBM, we can manage the entire fulfillment process for you, including automation such as receiving orders from Amazon in our WMS and fulfilling orders with a quick turnaround. Our ultimate goal is the same as yours: keeping customers satisfied.
Final Thoughts
Once again, it's important to remember that every Amazon business is unique, and the choice of the right fulfillment approach depends on each business's specific circumstances. We are here to provide support for all your needs related to your Amazon business.
If you wish to learn more or have an immediate need related to FBA or FBM, please feel free to book a call with me.
Thank you for reading, and I eagerly anticipate connecting with you again in our next blog!
Thao Nguyen
Sales & Marketing Manager