E-Commerce Selling Abroad: Should You Choose Localized or Cross-Border Fulfillment?
Find out which international fulfillment method is right for your e-commerce company selling abroad— cross-border or localized.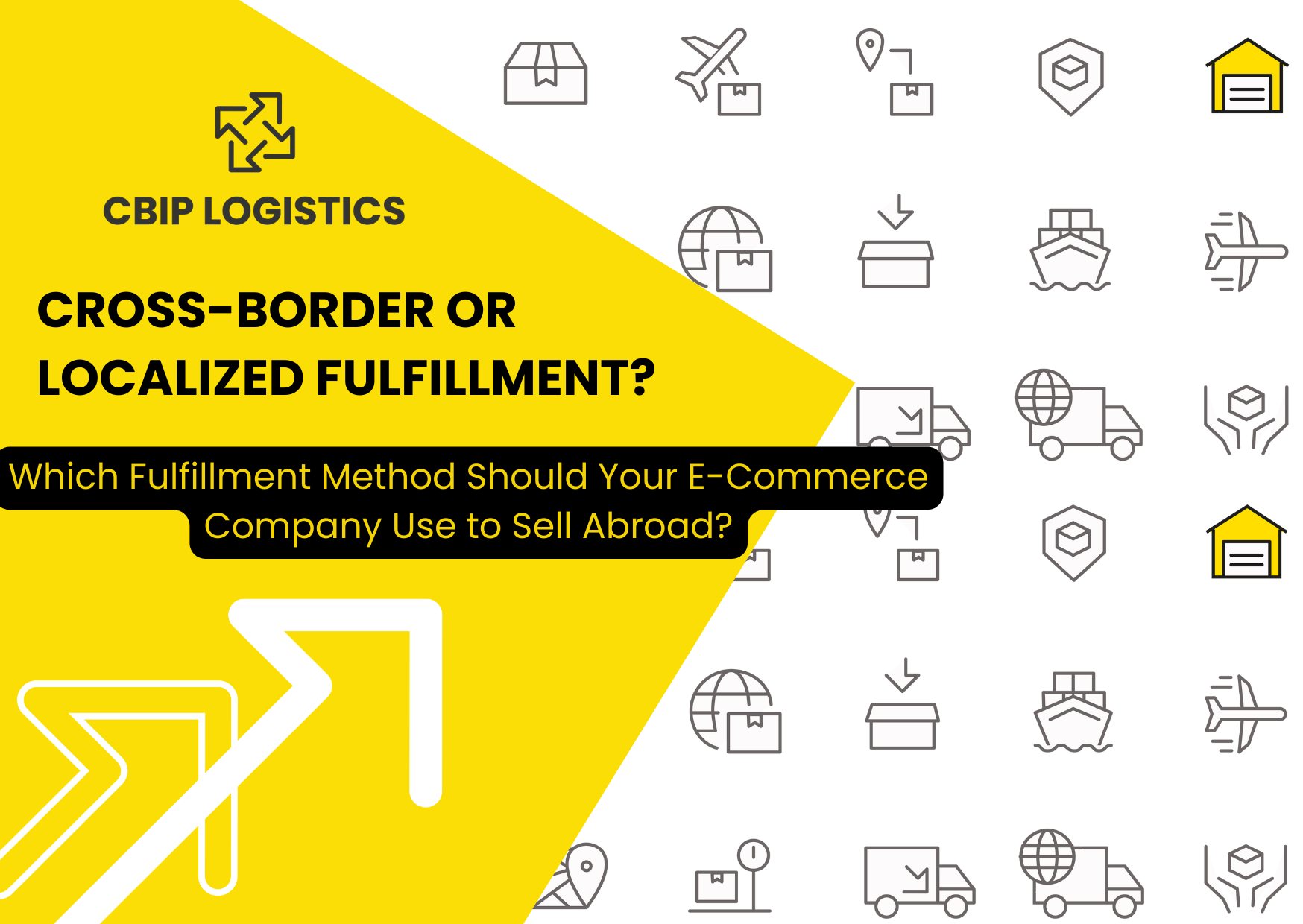 According to Paypal's 2022 cross-border e-commerce report, 57% of all online shoppers surveyed shop internationally, with 42% of those surveyed saying they have become more comfortable with cross-border shopping in the past year alone.
Statistics like these show a real jump in the percentage of shoppers willing to buy from brands abroad. However, rising expectations for fast delivery and low prices pose a challenge for e-commerce sellers looking to sell to markets in regions other than their own.
When it comes to selling to customers abroad, e-commerce retailers have two main options:
Cross-border fulfillment
Localized fulfillment
Cross-border fulfillment means that once a foreign customer purchases from your e-commerce site, you will need to pack up that order at your home warehouse and ship out the finished parcel internationally.
On the other end of the spectrum, there is localized fulfillment. This is where your company has set up warehousing and potentially other operations in a foreign market so that when an order front hat foreign market comes in, your foreign team can pack it up at the in-country warehouse and send out the finished parcel to its local destination.
When it comes to picking an international fulfillment method for your e-commerce business, you need to weigh the benefits and drawbacks of both before making your choice.
Read about CBIP's Adaptable 4PL Logistics Services
Cross border versus localized fulfillment: What are the ups and downs?
The rise of e-commerce has provided a tremendous opportunity for companies to test out selling in new places without setting up fulfillment operations abroad and with very little overhead.
Yet, selling to foreign consumers doesn't come without its risks. There is a lot to learn about taxes, duties, and how to do business in another country.
So, when it comes to selling your product to markets abroad, which order fulfillment method do you choose: Cross-border or localized?
Both methods have merit, but they each come with their own drawbacks. Let's run through the good and the bad sides of each to see which one will work best for your business.
Cross-border fulfillment
Usually, companies who are just starting out selling internationally online start with a cross-border strategy, but it can be a tough sell for some.
The good
Cross-border fulfillment is typically the best option for small e-commerce companies that are just getting started; it's easy to set up, doesn't require lots of capital, and gives you the option to sell to whichever markets you want globally.
Many things recently are making cross-border more favorable for consumers: fraud protection software and having multiple payment options all help ease customers' minds.
The bad
Although consumer comfort with international purchasing has risen thanks to technology, there are still a few points that make buyers hesitant to purchase from a foreign party.
On top of your having to figure out taxes, customs, and product specifications for the products you ship into the destination country, someone will need to foot the bill for those international shipping rates.
While high international shipping prices may not always be a deal breaker, it's important to understand your foreign customer's preferences and price conscientiousness.
Particularly with inflation and costs up, understanding what customers value is more important than ever, and this only gets more important when considering selling internationally.
It's important to understand your target market and their comfort with buying from abroad.
It is also very inefficient to ship individual parcels long distances, adding to carbon emissions.
Localized fulfillment
The good
Fulfilling online orders from multiple fulfillment centers globally helps you mitigate risk for your company— plus, shipping parcels locally means you will be cutting down on shipping prices and slashing your carbon emissions.
Nowadays, this is easier. Options like 4PL make it easier to find partners abroad, so this is much less of a risk. This makes it a lot easier for smaller e-commerce sellers to take part in a localized fulfillment strategy- even those that are new to the game.
The bad
The biggest downside to this is the investment of time, research, and finances for your company.
If you want to fulfill orders from a localized location abroad, you need to either build your own operation using your in-house team or find a reliable fulfillment provider.
Since building a fulfillment center in a foreign country is not a viable or cost-effective option for the majority of businesses, it is likely you will opt to work with a fulfillment provider. It's important that you do your research to find the right provider for you; one that is able to
Support you when you have questions and provide flexible options when things go wrong
Handle your order volume as your business market share grows
Provide full visibility for your operations(usually by integrating their technology with yours to make everything easy to track)
RELATED: Last Mile Logistics: A Comprehensive Guide
The consensus? Consider your market and your resources
Now that you have a good understanding of the positives and negatives surrounding both methods, it's time to consider the reality of your business.
Below are our top tips on how to analyze two areas to find out which method is right for you; your market and your resources.
Your market
Look at the data; do you already have a sizeable market share in the country you are considering setting up a secondary fulfillment center?
If you do, a localized fulfillment strategy may be what you need to grow your business in a new market.
Do some market research on your intended region. Find out more about your customer and their buying habits; things like the average income of your end user and comfort with longer shipping times can help you determine what your fulfillment strategy should be
Your resources
Do you have an experienced in-house team to find and vet a fulfillment center abroad, or otherwise are you willing to outsource to a fourth-party partner who can find and manage a fulfillment center for you?
Consider the financial resources you have to invest in a new fulfillment center—not to mention the time it will take. Even working with a 3PL/fulfillment company that can manage the fulfillment process for you, you will still need to take the time to find and vet one, and you'll need to figure out alternative routes if something goes wrong.
If you are able to make the investment, localized fulfillment may be a good choice for your company.
If you aren't able to find and oversee a fulfillment center on your own, you can also opt to partner with a 4PL that will set up your fulfillment abroad and manage everything for you.
CBIP gives you the tools you need, whatever fulfillment strategy you choose
As a global fourth-party logistics provider, we understand how tough managing logistics on an international scale can be; that's why we want to take the load off your back and take care of the hard stuff for you.
With a global network of logistics partners, from fulfillment centers to customs brokers, we will set up the perfect fulfillment operation for your business, end-to-end.
Even using the above tips, it can be confusing trying to decide what international fulfillment strategy is truly right for your e-commerce business. Luckily, we don't just set up and manage your entire logistics chain— we are also your any-time consultants, helping guide you towards success on all your business goals.
Want to find out which fulfillment method is right for you and have a free consultation with a CBIP expert? We'd love to chat— get in contact with us today.