How E-commerce Is Changing Logistics
From warehousing to shipping to last-mile, here are some of the key ways e-commerce is changing the face of logistics today.

E-commerce today is hurtling along with an expected growth rate of 19% per year. Already sources like DHL say e-commerce made up as much as 15.5% of overall commerce in 2021. In an industry growing as fast as new cellular coverage expands the only roadblock may be simple logistics.
Despite its reliance on shipping infrastructure, the speedy promises of e-commerce are frequently at odds with its sister industry. One which has historically been notable for being slow to embrace new technology.
But today the slow-moving logistics industry is finally adapting to this new era of same-day fulfillment and easy shipping. Here's what's happening between customer clicks and a delivery that arrives on their doorstep today.
WHAT HAPPENS WHEN YOU PLACE AN ORDER ONLINE?
E-commerce breaks the barrier of geographical location – offering a whole world of customers and seemingly limitless new markets for expansion for businesses.
From the consumer's side, online purchasing is pretty simple:
Customers choose a product
They input their address
They choose a delivery method (in most cases)
They make a payment.
From the e-commerce retailer's (e-tailer's) side things are a little more complicated:
1. Orders are received
2. The product leaves the warehouse
For small companies that generally have just one warehouse, this step is primarily about selecting the right item, packing it safely, and attaching the correct information (invoice, customs document, label) before shipping.
Big e-tailers may have several warehouses located in different cities and/or countries. They need to worry about a wider range of issues like uneven product distribution or varying transport times.
3. Products are delivered from the warehouse to the customer.
Small businesses generally offer just one option for fulfillment since they are often limited to one method. Bigger companies can give choices ranging from express, standard, and economy shipping services.
HOW IS THIS GROWTH IN E-COMMERCE IS INFLUENCING LOGISTICS?
TRANSPORTATION
Transportation from the factory to fulfillment has traditionally followed a model like the one below:
The manufacturer produces the goods in bulk
Goods are shipped to large, centralized distribution centers
Goods are split into smaller quantities and sent to different regional fulfillment centers
Finally, private companies handle the transport of individual orders to consumers
How it's changing
Spurred on by technology, customers today expect less waiting time between warehouse and fulfillment. In many East Asian countries today with close proximity to factories, same-day fulfillment is almost an expectation.
This puts added pressure on retailers and manufacturers to have goods stocked and waiting in fulfillment centers so they can meet demand. This part of the logistics process is known as "last-mile" logistics.
Traditionally, last-mile has been a sore point in logistics. Efficiency decreases as goods get closer to the consumer and the costs increase. AT Kearney estimates the last mile to account for nearly half of total logistics costs.
Ecommerce and its reliance on strong last-mile to satisfy customers has made logistics companies focus much harder on straightening up this final step of the process. This has created a huge surge in new technology and methods to speed up movement from warehouse to doorstep.
WAREHOUSE AUTOMATION
E-commerce companies are also looking at optimizing their warehouses, automatizing a growing number of internal processes from stocking to packing.
Robots are being used more and more featuring technology like cameras, laser sensors, radio-frequency (RF) ID devices, and barcode readers.
Some smart warehouses today mostly rely on robots to do all of the work.
In this Alibaba warehouse in China pictured below, 70% of the work is done by robots, some of which can carry up to 500 kg.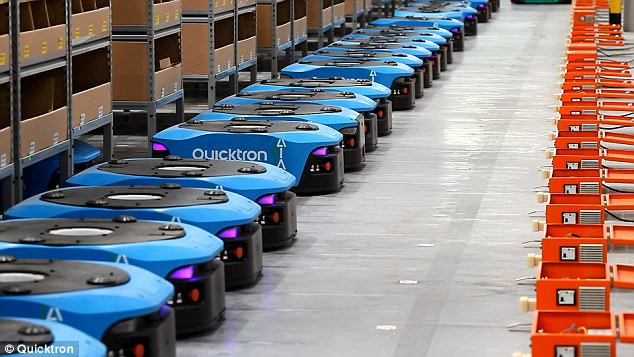 Inside Alibaba's smart warehouse staffed by robots – https://www.youtube.com/watch?v=FBl4Y55V2Z4
R&D investments in warehouses today experiment with automatically guided vehicles (AGVs), drones, self-driving robots, and even delivery tunnels.
CUSTOMS
Manufacturing goods in developing countries and shipping them lets people sell goods at significantly lower prices. It also has introduced a new brand of international hurdles to the supply chain.
Almost all goods crossing international borders are subject to duties and taxes imposed by the importing country's government. These fees are added to generate revenue and protect local industries against foreign competition. This means that an item that you have purchased online for a certain price could cost you more once it reaches your country.
Read our article on Hong Kong customs clearance here
There are two general customs terms that matter here:
DDP (Delivery Duty Paid) means that the e-tailer has entirely dealt with all potential additional Duties & Taxes that are to be paid to the customer's country's government.
DAP (Delivered At Place) means that no duties have been paid yet. Therefore their payment will fall on the customer, most likely at delivery.
Nowadays a growing number of suppliers push duties and taxes directly onto customers when they place their orders. This practice has caused good prices to fluctuate wildly region-by-region. Today customs costs can be a significant inhibitor to a cost-effective supply chain.
RETURNED GOODS
Reverse logistics presents one of the biggest operational challenges due to the sheer volume and cost of processing. The way e-tailers handle their returns will make a big difference in how those customers do business in the future.
The amount of returned goods going backwards along the supply chain is usually much more than people normally think. In the textile industry, for instance, the volume can be as high as 50% of total shipments. It is not unusual for customers to buy several similar products in different sizes or colors, with the intent of returning a portion of the purchase.
Those e-commerce stores that have a hard time returning an item will likely look elsewhere the next time they shop online.
How goods are returned
Returns of soft goods typically require a point-of-sale credit back to a customer. Retailers need the functional capabilities to check the item back into inventory and possibly route it back to a warehouse or distribution center.
If your company has integrated return management into your strategy, you can use it to your advantage by finding avenues for reselling your returned products. Many companies with high return rates already include return labels in their original package so that reverse logistics is less hassle for both the customer and the e-tailer. Some others will let customers drop off their packages at specific locations.
WHAT YOU NEED IN AN E-COMMERCE LOGISTICS PROVIDER TODAY
With all the complexity and flexibility required in e-logistics today, major logistics providers have had their hands full. How does one turn a global patchwork of regulations and providers into cookie-cutter packages for clients?
In many cases, when you contract a major logistics provider today, you end up paying a lot for an inflexible package unsuited for the modern realities of e-commerce.
CBIP was created to answer this problem. We're a fourth-party logistics service that helps businesses like yours source logistics efficiently and flexibly because we don't own assets like trucks or warehouses.
Don't like a particular shipping route or pricing model? We can work with your business to find new providers at any stage of your logistics quickly and keep your business evolving with the industry.
Fill out a contact form if you would like to get in touch with us.