How to Make Your Supply Chain More Resilient to Disruptions in 2024
Nervous about supply chain disruptions in the new year? Here are some tips to stay at the top of your game in 2024.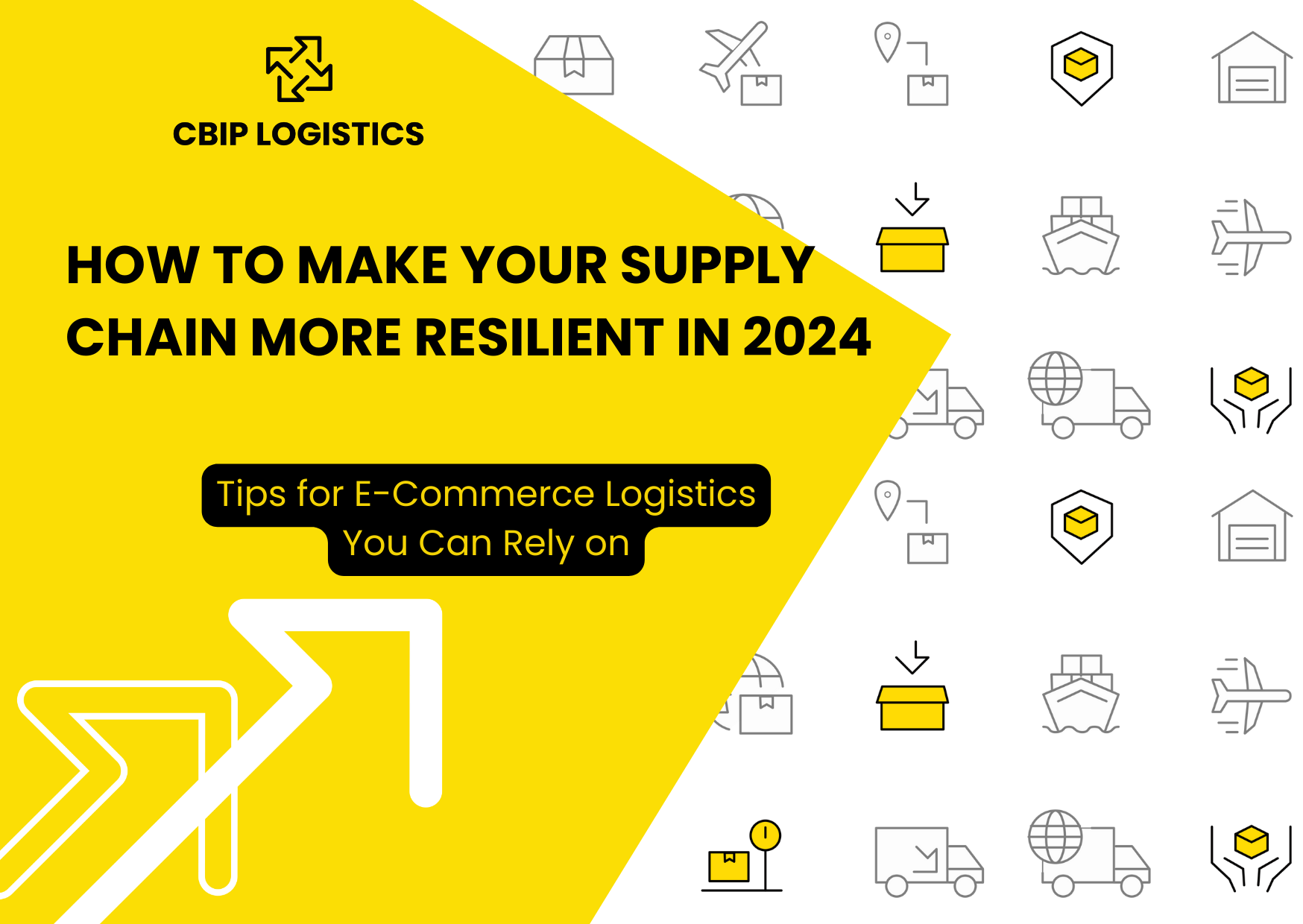 It's not just you — global supply chains are getting more complicated.
Why is that the case? Half a dozen answers come to mind: COVID-19, globalization, shifting geopolitical climates, and the rise of Amazon.
Post-Lockdown era, things have calmed down significantly. However, a return to normal has not meant a return to the way things were. In 2020, an estimated 56% of retailers around the world reported that COVID-19 had disrupted their supply chains.
Post-COVID, major changes are being made to make supply chains more flexible and stable to various types of shocks.
Are you worried about whether your online retail business has the resilience and skill to weather possible supply chain disruptions in 2024? Read on for some tips to stay ahead of the game.
Read About CBIP's Adaptable 4PL Logistics Services
Tips to sure up your supply chain
Considering the global nature of today's supply chain, it's likely your business will feel the effects of some disaster going on halfway around the world from time to time. While this can't be helped, there are a few things you can do to avoid the brunt of the blow and mitigate risks for your business.
Move away from single-sourcing
Thanks to various bottlenecks during the past few years, many retailers have decided it is no longer safe to single-source their production or manufacture in only one location.
Setting up tertiary manufacturing and logistics operations can be done for a multitude of reasons, including:
You want to set up operations closer to a foreign market to better serve those customers
Your primary supplier is unreliable or cannot keep up with your demand levels
Supply chain barriers are making it challenging to get shipments from your primary supplier
Any way that you can set up multiple operations closer to your largest markets will help you cut down on risks. Whether you can figure out how to set that up with in-house capabilities, or you choose to outsource that job to a 4PL, depends on you and your resources.
Nearshore parts of your supply chain
Nearshoring refers to taking part or all of your production/logistics and moving it closer to home.
Regions like Central America have become popular options for US retailers, with automotive shipments from Mexico to the US jumping 31% from 2022 to 2023.
It isn't hard to imagine why this tactic is on the minds of many who struggled for months to get necessary parts out of locked-down regions. However, nearshoring is not for everyone in all industries.
Many experts think that nearshoring should only be employed as a tactic for those companies that produce critical components of their product abroad, like microchips, or those that produce crucial medicines and medical products.
For those looking to mitigate the effects of potential supply chain disasters, without uprooting production, you might want to focus more on developing short-term contingency plans if something goes wrong.
Related: How a 4PL Keeps You Moving Through Supply Chain Disruptions
Develop contingency plans
It's very challenging to think of all the things that might go wrong and form a backup plan.
Some can be predicted and planned for, like regional weather changes, but others like political unrest may pop up unexpectedly.
Nearshoring is known as one effective route for creating supply chains that are more resilient to risk, but what can you do that is a little less drastic?
First, improve your logistics visibility.
Make sure that you are using data management systems and analytics that can feed you consistent and reliable data on everything that is happening throughout your supply chain.
That includes stellar inventory management systems to make sure you are holding what you need, particularly if you need to store a bit extra to weather a storm. You should also use tracking software to give you visibility into what's going on in your supply chain all the time.
Second, avoid taking on assets.
In-house solutions can be great for having all the control you want over your business, but you lose out big when it comes to flexibility.
Opting to outsource all elements of your supply chain, from production to logistics, frees up precious company time and resources to focus on improving all other elements of your business — plus, it makes things a lot easier for you when you need to move or change an aspect of your supply chain if something goes wrong.
Work with an experienced logistics partner
All of these solutions have one thing in common: they work best when employed with an experienced 4PL as your partner!
As a global fourth-party logistics provider (4PL), we at CBIP Logistics have built our business to provide flexibility and supply chain resiliency for our e-commerce retailer clients. Our flexibility is built from the ground up; we do not own any assets. Instead, we work with a network of logistics providers.
Each one of these warehouses, fulfillment providers, carriers, and shipping companies has all of their operations and data management systems integrated with our platform. When you log on to your CBIP client platform, you can see everything happening across your logistics chain, all in one place.
Although CBIP specializes in the freight forwarding and last-mile delivery portion of the supply chain, we can also work with you as your trusted consultant to make sure that things are going well at your manufacturing facilities.
What if something goes wrong?
Even though we are a global company, we are not a huge one-size-fits-all logistics provider. We take a personalized approach to logistics, and that extends to when you are having a crisis as well. We will be there on the scene, forming and enacting a contingency plan that gets your business back on track in no time flat.
Ready to learn how to avoid supply chain disruptions in 2024? Give us a call — we'll chat about your business, and different methods to ensure your logistics operations run smoothly in 2024.