How to Manage E-Commerce Returns for Effective Reverse Logistics
Check out our guide for effective e-commerce reverse logistics.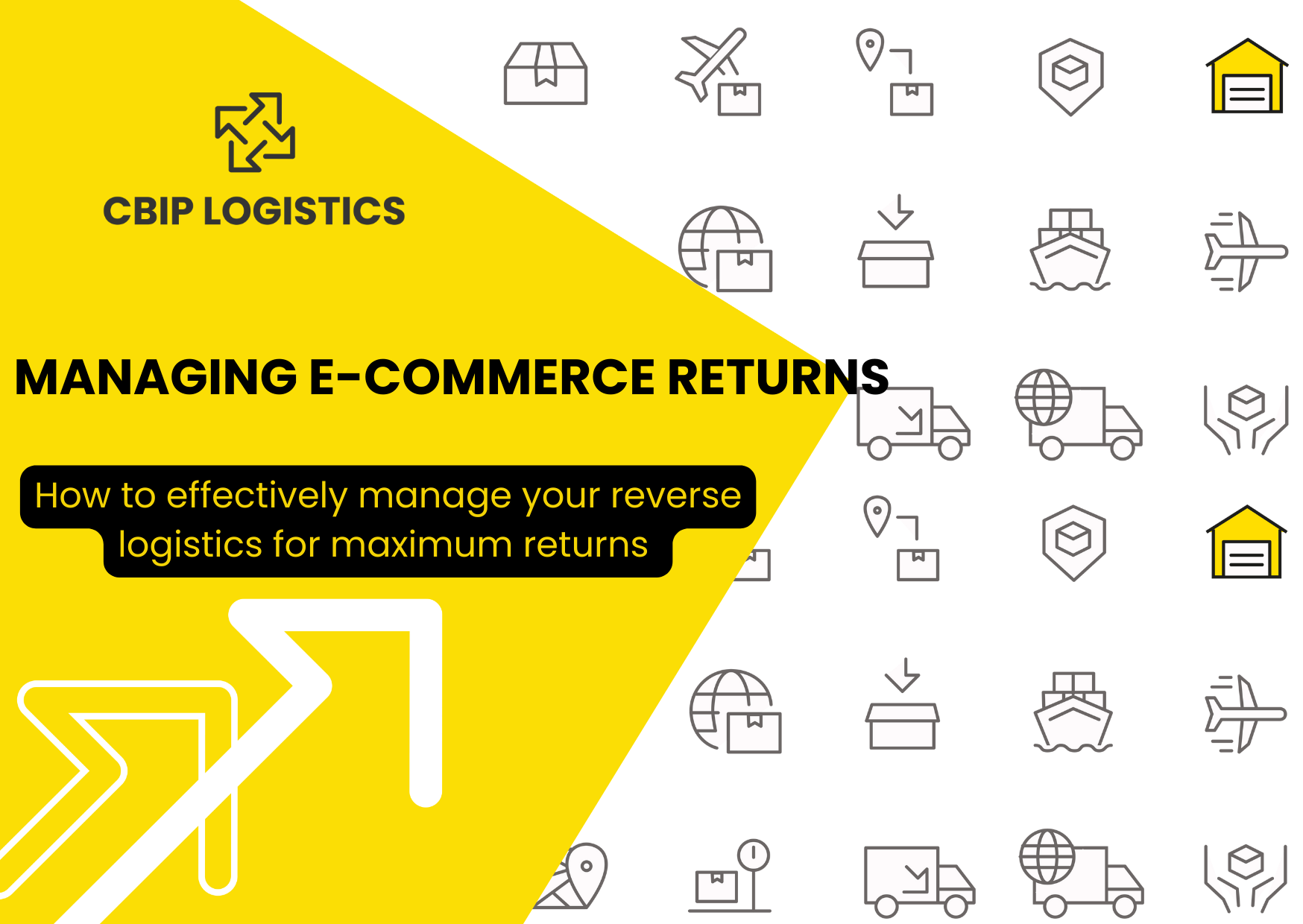 In the USA alone, consumers returned $428 billion worth of goods in 2021. That's a return rate of 10.6%, with e-commerce accounting for nearly a quarter of that.
Why are consumers returning so much? Research shows that many people do not see online shopping as a final purchasing decision, but as a low-commitment opportunity to try out a variety of different objects.
While convenient for the consumer, this so-called "try-and-return" mentality has created a logistical nightmare for e-commerce retailers.
Naturally, the best way to cut down on the cost of returns management is to cut down on how many items your customers return.
However, returns are inevitable, so you need to learn how to handle them, and the associated costs, in a way that maximizes your revenue potential.
Read about CBIP's Adaptable 4PL Logistics Services
What returns management is and why it deserves your attention
Returns management, also called reverse logistics, refers to the entire cycle of any return, including
The customer enacting a return request
Directing an item shipped back by the customer to the correct sorting facility/warehouse
Processing and auditing the returned product
Restocking the product in the warehouse and updating your sales platform to reflect its availability
Throughout each one of these processes, it is critical that your teams make sure returned items don't get damaged, store them correctly for easy access, and refund the customer accurately and promptly following their return.
The returns process is tedious and can be costly, but following the steps carefully is important for your business's success. Studies show that businesses that invest in improving returns management are able to cut their costs by around 4% and raise customer satisfaction levels by an estimated 12%.
Top 4 returns management strategies
While you can't avoid the reality of returns, there are some things you can do to ease their burden on your business.
If you feel that you don't yet have a handle on your reverse logistics operations, do not panic. Consider the following four best practice strategies to level up your returns management processes.
Understand your associated costs
If you want to optimize your reverse logistics, you first need to understand all the costs associated with your returns.
For example, are you offering free returns? You may need to run the numbers on how much that is costing you.
For some, offering free returns boosts sales and results in better customer retention and higher profits. However, if you are spending a large amount of money on free returns, you might consider simply allowing the customer to keep the product and take a refund so you can save on shipping.
Other impactful costs related to reverse logistics include:
Damaged goods - Products need to be inspected upon arrival at the sorting facility or warehouse, which involves auditing and testing. Remember that an estimated 10% of returned goods end up in a landfill, so the environmental cost of damaged goods is great as well.
Transportation - Companies that handle returns internally often struggle to optimize the routes for returns, making transportation inefficient and expensive. It is also notoriously difficult to plan for and adapt to individually returned parcels arriving at facilities.
Reselling - You need to make sure that the product is undamaged and unused before you make it available on your site again. The product needs to be repackaged and reposted on your site for sale.
Labor - Your operations teams take care of a lot of the tasks related to receiving and sorting the returned items, but many other internal and external teams are involved as well, including marketing, merchandising, and any carriers your work with.
In general, most retailers put more time and effort into shipping and logistics costs, neglecting their returns processes. Yet, returns management is a notoriously inefficient and costly part of logistics, so optimizing profitability in this area is crucial for your bottom line.
Related: Why Reverse Logistics is Crucial to Ecological Sustainability and Good For Your Business
Make policies clear and transparent to better manage customer relations
Customers who don't understand the policy around returns, exchanges, return deadlines, and refunds end up feeling frustrated and even cheated.
As a reputable e-commerce retailer, you are expected to post your return and exchange policy in plain language on an easy-to-find site page. Failing to do so will result in a major lack of trust with your customer.
In addition, you might want to consider setting up a feedback forum for your online returns; particularly if you are getting a lot of return requests and you don't know why, or if you suspect there could be a solvable problem with one or more of your products.
Utilize warehouse and transportation management tools
Just like with forward logistics, visibility, and predictive modeling are often the main aggregators behind inefficient reverse-logistics operations.
In order to save costs and optimize efficiency in the returns process, you need to make sure you are using the right tools.
Tools for good warehouse management can include everything from high-tech software to simply having well-aligned processes and properly trained employees.
There are countless tools you can use to help you here, including
Pick and pack software
AI-based software
Voice picking
Automated storage and retrieval systems (AS/RS)
Wearable technologies
Autonomous vehicles, robots, and even drones
You can check out our other article on warehouse automation for more detailed info on the tools listed above here.
Apart from automated technologies, there are some basic tactics that you can use to avoid unnecessary waste and loss in the returns process, like
Pack and ship items properly to avoid damaged goods
Mark resellable returns as "in stock" and always keep enough space to warehouse returned items.
For ease of processing and storage, send the returned product directly back to the warehouse that it came from. They have the facility to store it, and it can wait there until someone else orders the product.
Offer returns tracking to customers so that they know if and when their item has been returned to your facility and when they can expect to receive a refund.
Outsource to a more experienced reverse logistics manager
If your company has experienced a lot of change or growth in the past few tumultuous years, you aren't alone.
After so many changes, you may not be capable of managing your returns on your own anymore. If employing the above tips still leaves your in-house teams struggling with returns, it may be time to call in some outside help.
Outsourcing your logistics saves time and gives you plenty of options for when things don't go according to plan— so, why not outsource your reverse logistics too?
Outsourcing reverse logistics to a third party can have many benefits, including increased flexibility and better customer service capabilities. Outsourcing your reverse logistics can also help you:
Reduce unforeseen costs
Get access to facilities that use the latest logistics technologies
Leverage the partner's knowledge of the logistics industry
Scale operations for your growing business
Whether it's a third or fourth-party logistics provider, you want to outsource to someone who takes the time to understand your business and helps you achieve your goals.
Thinking about outsourcing your reverse logistics? Consider CBIP
There's no doubt that managing returns for an online business is challenging. If you are looking for a 4PL company that can take care of both your standard and reverse logistics for you, we've got you covered.
As a 4PL with a global network of partners, we at CBIP design and manage your logistics wherever you need, optimizing your transportation and getting you the best rates through our network of suppliers.
We know that one of the most important aspects of returns is good customer service, so you need a partner who can supply the data to keep track of your reverse logistics.
At CBIP, we provide helpful data through our platform to help you keep track of KPIs, partners, shipments, returns, and more.
Not only will we design and manage your entire logistics process; we will also consult you on how best to achieve your business goals—such as how to win back revenue lost through returns.
Interested in learning how CBIP can help optimize your reverse logistics? Reach out for a free assessment with one of our pros.