How selluseller helps you manage your sales channels in one location
Here are some of the key ways you can use our integration with SelluSeller to help expand your business today.

Wouldn't it be nice to manage all your sales from different e-commerce marketplaces on a unique & user-friendly platform?
This is the goal that Anchanto, Singaporean-based e-commerce solutions company had set when creating SelluSeller.
SelluSeller is an online e-commerce software. It is a one-stop solution to manage selling across multiple e-commerce marketplaces. When you sign your e-commerce business up to work with us, we help you integrate your business with our own Selluseller-powered API.
Selluseller interfaces with major e-commerce stores like Amazon, Lazada, Zalora, Qoo10, Shopee, MyStore, Flipkart, Snapdeal, and web stores such as Shopify & Magento. It also offers a full range of key features including marketplaces integration, inventory and orders management, and multi-store management.
Here are some of the key ways you can use SelluSeller to help your business today.
AN OVERVIEW OF SELLUSELLER'S FEATURES
SelluSeller is an E-commerce Order Management Software that helps you consolidate, plan, and track your order processing flow from a central dashboard. You can use it to track goods of all order types (marketplaces, in-store & click & collect) on multiple platforms in multiple countries.
You can even use it to manage offline channels as well as logistics providers. The system comes with 35+ shipping partners already integrated for you to choose from.
Read About CBIP's Global 4PL Logistics Services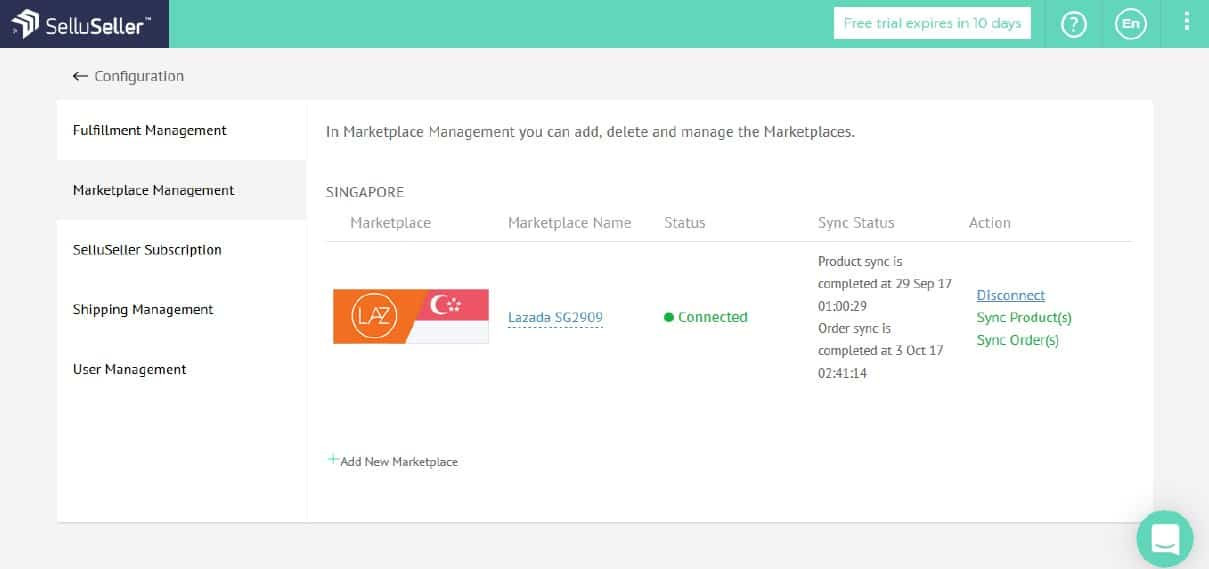 A view of the SelluSeller Marketplace Management page
SelluSeller's easy interface lets you create your catalogue of products with just a few clicks – and then lets you list your products on multiple marketplaces in multiple countries.
Other features include:
REAL-TIME ORDER TRACKING
You can use your account to view, track, and process all orders. You also will receive updates on every stage of the delivery process so you can make sure your customers have no surprises.
AUTOMATED PURCHASE ORDERS
Running out of stock can be a crippling blow to any ecommerce business' growth. You can track and automate your orders and returns to keep your suppliers updated in real-time on the amount of goods needed in a given location.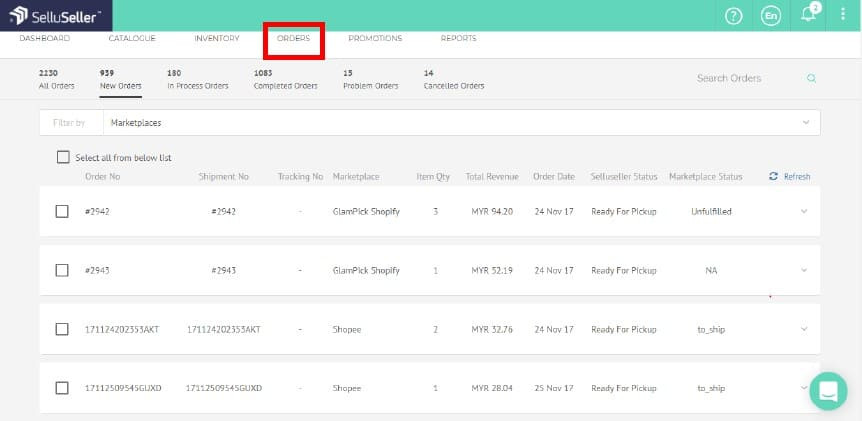 A view of the SelluSeller Orders page
SHIPPING MANAGEMENT
SelluSeller also includes a shipping management section that helps you to easily add shipping methods for particular marketplaces. The program also allows you to process orders in multiple currencies for multiple regions including: Malaysia, Indonesia, the Philippines, Singapore, Hong Kong, Thailand, Vietnam, Taiwan, India, Japan and China.
WAREHOUSE MANAGEMENT SYSTEMS (WMSS)
When working with perishable goods, it's important to stay on top of expiration dates and time spent on the shelves. SelluSeller comes with a modern WMS with advanced features such as batch & expiry management to make sure you are on top of your schedule and don't accidentally send out expired goods.
PRE-BUILT ECOSYSTEM ECOMMERCE INTEGRATIONS
SelluSeller's interface lets you seamlessly connect with last-mile carriers, marketplaces, webstores, Enterprise Resource Planning systems (ERPs), and accounting tools.
RUNNING PROMOTIONS ON SELLUSELLER
Great promotions at key times can have a huge influence on your sales. The SelluSeller app has four built-in promotion options you can easily run on the platform within your desired marketplaces:
Percentage discounts – ex. 20% off
Absolute discounts – ex. $20 discount on all apparel
Gifts with purchases – ex. buy two get one free
Pre Orders – Order early to make sure you get one first
The interface comes with a built-in live chat feature to help you if you don't find your answers in their dedicated help center.
ANALYTICS ON SELLUSELLER
SelluSeller gives you real-time access to analytics data from your personalized dashboard. This can help you discover market trends and view your top performers in terms of products, countries, and marketplaces.
A single source of truth for multichannel sales – You can manage data like SLAs, inventory, orders, and revenue all in one place increasing your top and bottom line revenue potential.
Regional/global e-commerce sales & customer behaviour data – Lets you get an overhead look at multichannel sales data divided by regions, channels & products.You can also view customer behavior analytics.
Intelligent business predictions – Lets you get precise predictions from market data allowing you to more accurately predict sale periods and more.
Track & measure your growth – SelluSeller provides detailed reports from all the above features – making it easy for you to compare growth quarter over quarter.
RELATED: How to Take Your E-commerce Business Global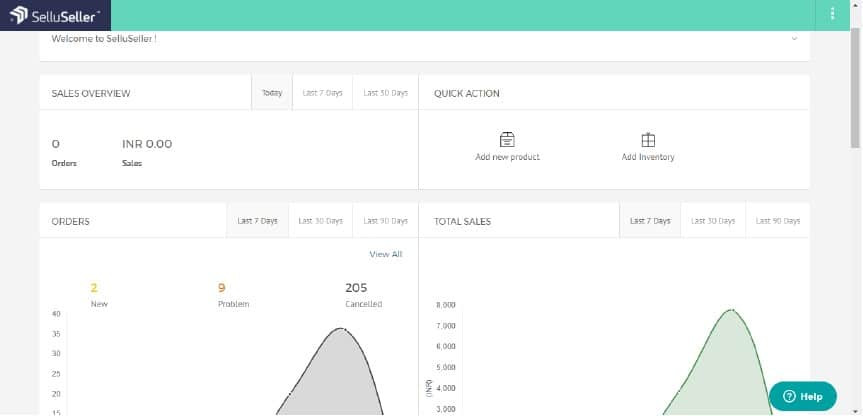 An overview of the sales analytics page on SelluSeller
WANT HELP INTEGRATING YOUR BUSINESS ON SELLUSELLER?
SelluSeller is fast becoming the industry-standard tool for integrating e-commerce logistics. 7,000+ customers today including L'Oreal and Nestle have already integrated with the software.
That's why at CBIP all customers that work with us get the option to integrate with our in house Order Management System (OMS) powered by Selluseller. That's because we are a 4PL logistics and consulting firm dedicated to bringing technology to the logistics industry.
Send us an email from the form here if you're interested in working with us. If you simply want more info on SelluSeller drop us a message too!