How to take your ecommerce business global - and succeed
If you sell a product and your local market gets saturated taking your ecommerce business global is the natural next step to expansion

Targeting local markets is usually the first step to a great ecommerce enterprise. But if you sell a product that you think has a large universal appeal and your local market gets saturated, you may want to change things up. Taking your ecommerce business global is the natural next step towards increased profits and avoiding oversaturation.
So just how do you take your business from local to global?
Here are the steps you need to follow as an ecommerce business if you want to bring your business to the world.
Read About CBIP's Global 4PL Logistics Services
THINK LOCAL, SHIP GLOBAL
If you can't make your product successful within a market you know, then there's a low chance you'll be able to roll out into a less familiar market.
Before you even begin to think about taking a product global it's crucial you look for demand in at least one local market. Otherwise, operations can quickly spiral out of control and you may burn through money fast.
If you haven't done a launch yet, talk to some people on the ground who know your target market or aim for one you're familiar with.
Once you have completed a successful launch in your first market, you likely have the knowledge you need to make global work. Make sure to remember exactly what worked and what didn't on your local launch. Turn this into an actionable plan you can use again and again when you move to other regions.
MAKE SURE YOUR PAYMENT PROCESSING IS PREPARED
Most payment processors like Paypal or Visa have some restrictions on where they can receive payments.
You don't want any new operations to be held up by delayed payments. Especially in the beginning, great customer service and timely fulfillment can be the easiest ways to stand out from the pack. If payments just aren't doable in a region, then it is probably not worth your effort.
Check with your provider for which regions they cover and open up new avenues for payment if necessary. Keep track of those currency conversion and transfer rates too!
REGION-OPTIMIZE YOUR ONLINE STORE
Different countries have different things they like and expect to see online — and you should take note of it.
Besides translating your store into the local language of where you're selling, try to make it look like pages they are used to interacting with. You want to optimize your purchasing experience to be as fast and painless as possible if you want to sell.
For example, ecommerce pages in the US tend to look a bit like Amazon's below. They feature a search bar at the top, a checkout cart in the top right corner, and large, mobile-optimized section links near the bottom: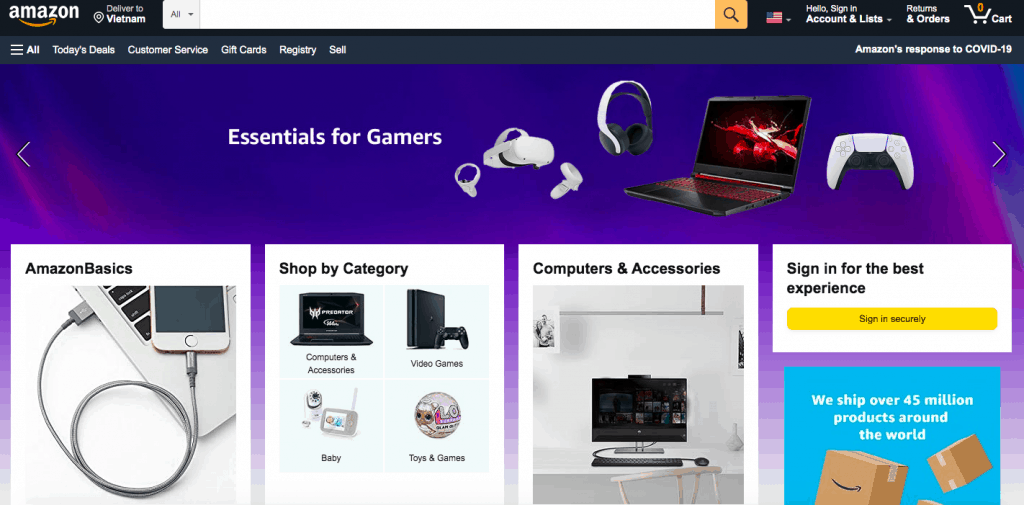 This is the typical Amazon ecommerce homepage in the US.
However, sites in China follow a slightly different style, as seen on Jingdong (jd.com) below. Chinese users may, for example, expect a small left-hand bar with categories. They also like to have QR codes easily accessible, as most people in China pay with cellphone apps. JD puts theirs in the top right.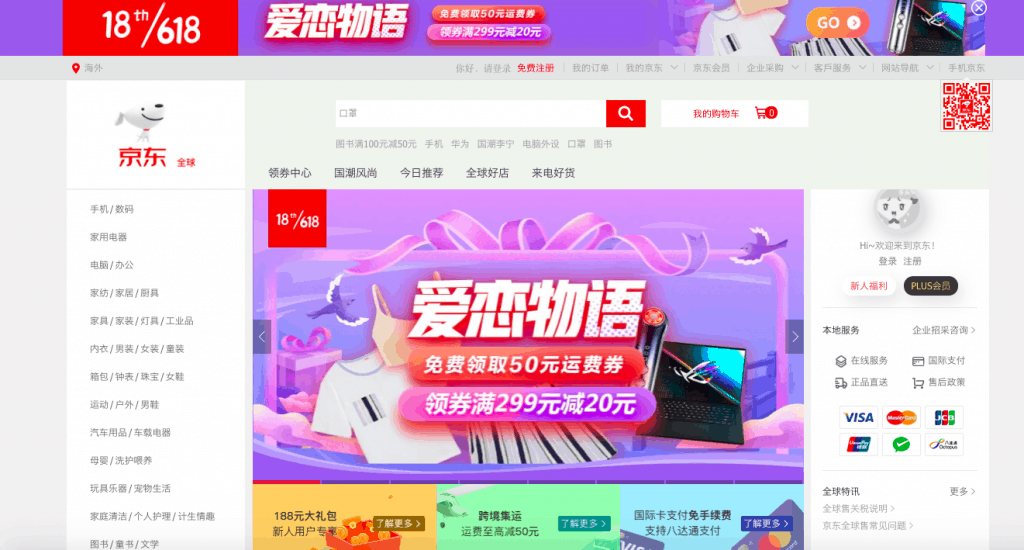 This is the typical JD ecommerce homepage in China.
RELATED: What is 4PL? And Why is it Making Logistics Unrecognizable?
OTHER TIPS ONLINE
Besides the two steps above, you need to take proactive measures to make your page fast in whatever country you target. Purchase a local web domain or work with local dropshippers to get a fast and responsive page running before launch.
Also, make sure your products are optimized for local search engines. Get someone on your team with knowledge of local SEO to help you get maximum exposure.
GET A FEEL FOR THE SHIPPING COSTS
Before you move into the logistics side of shipping internationally, try to get a feel for how much shipping and handling will cost per unit.
Ask your manufacturer if they have any experience shipping products to the region you are targeting. If they cannot help you, talk to a consultant. This will let you come in knowing your price points so you can negotiate confidently with any logistics providers you work with.
GET YOUR E-LOGISTICS IN ORDER
While you could use a major logistics provider for your logistics, they may not be the best option for a small business looking to scale quickly and profitably.
Large providers will usually offer you a fixed price no matter the route they choose for your goods. And if there are delays or damages, you have little control outside of terminating your contract and starting from scratch.
But ecommerce logistics (or e-logistics) is becoming increasingly diverse as manufacturing becomes more global. And there are a growing number of smaller providers with services that can tailor to your business needs.
GET LOGISTICS TAILORED TO YOUR NEEDS BY CONTRACTING A 4PL FIRM
For small ecommerce businesses trying to scale up, you need a logistics provider that gives you options — a provider that doesn't expect you to be able to take the same hits as major retailers can in the face of inconvenience.
At CBIP, we're a fourth party logistics provider (4PL) laser-focused on getting your business from local to global as quickly and economically as possible the way you want it.
4PL is a new type of logistics designed to offer a clearer look at the options and pricing available to customers like you. From fulfillment to last mile and more, we work with you to make a logistics plan that can pivot on a dime to meet your needs.
If you're ready to take your ecommerce business worldwide, set up a free consultation with us today by filling out the form below.