Selling Pet Food and Products Online? You'll Need Great Logistics to Impress Pet Owners
Many e-commerce pet product companies are seeing major success. How to make sure your company is one of them? Great logistics!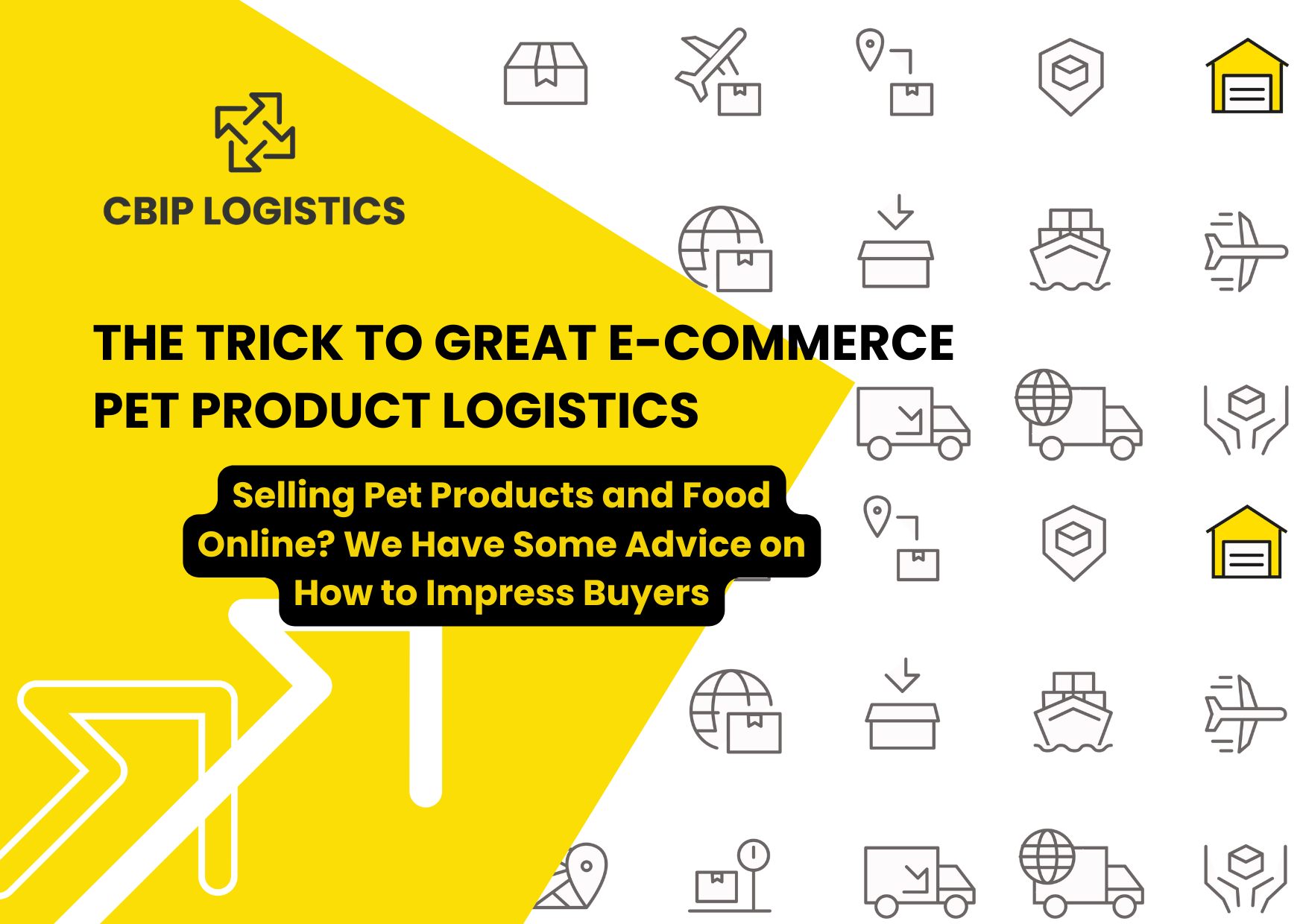 A 2023 study shows that around, 86% of pet owners shop for their pets online.
If you are selling pet care products or thinking about getting into it, it's a great business to be in. No matter how much costs go up, consumers do not change their spending habits much to take care of their furry friends.
Although your furry consumers can't tell you their opinions, pet owners making the purchases value quality and safety when it comes to the products they buy.
That means that if you are shipping dog food directly to a consumer, you'd better ensure they are shipped and stored correctly. And your packaging cannot be too easy to tear into, should some furry friend happen upon it on your doorstep.
With global revenue in the pet product industry projected at 350 billion by 2027, many are looking to either get into the pet product industry or expand existing pet businesses.
Whether you are just getting started or have been selling puppy chow for years, the uptick in e-commerce purchases means now is the time to figure out how to get logistics right. Let's take a look at a couple of aspects that make pet product logistics different, and how to nail it.
Read about CBIP's Adaptable 4PL Logistics Services
How is pet logistics different? The rise of direct-to-consumer pet product delivery
A wide range of products means different logistics challenges
The pet product category includes a broad variety of products, from squeaky toys to pet treadmills. And it's more than just toys and treats: pet product retailers have begun providing insurance plans and healthcare, with retailer Chewy launching its pet pharmacy in 2018.
There's no limit to the number and type of items pet owners buy for their pets, whether for the pet's health or mostly for their own enjoyment.
Many pet product companies sell a wide range of items, including:
Food
Bedding
Toys
Flea and tick treatments
Medicine
Not to mention other related products like stain removers and cleaning products. This provides a great opportunity for expanding business but can make logistics a little more challenging for those selling various types of products.
The high number of SKUs means warehouse organization is challenging
Having a wide range of products also means dealing with many SKUs.
The larger the number of SKUs, the more complicated it will be to sort items onto shelves and pick and pack the correct thing when an order comes in.
This means added time for warehouse workers, lots of storage space needed to keep many different items on hand, and a higher likelihood of packing and shipping the wrong thing in an order.
Cold chains and sturdy packaging are needed
Although most pet foods are shelf-stable for anywhere from one to two years, different factors can affect the shelf life of various types of foods. Recent years have seen a rise in the popularity of raw pet foods. Since these meals are made with fresh ingredients, they need to be kept frozen until ready to eat.
This means that you need to work with a courier who can keep fresh foods at chilled temperatures, and who understands that bags and cans should be treated with care.
Even with dry food and treats, the two-year shelf life only applies if you are keeping the bag tightly sealed. Once opened, the food is exposed to moisture and bacteria and needs to be used fairly quickly.
Bags of pet food and treats can also be quite heavy, and they are susceptible to puncturing or bursting when they get tossed around during transport.
By the way; keep in mind you are sending food to the doorstep of a creature who probably has a pretty keen sense of smell. You'll need durable packaging to protect the product from accidents during transit — and from prying noses.
RELATED: What COVID Taught Us About Cold Chains
Want to bolster pet product sales? Earn the owners' trust with great logistics
E-commerce sales for pet products are projected to reach 45% of total pet sales by 2026. That means that you need a plan for growth and customer retention.
What can you do to make your pet care company the best? Impress your buyers with great customer service — that means nailing logistics.
To get logistics right, we'd recommend focusing on the following three aspects.
1. Make sure carriers know the drill
If you are shipping perishable goods to your customer's doorstep, you need to make sure your last-mile providers can keep packages safe and temperature-controlled.
For most dry and canned pet foods, you will probably just need to have sufficient packaging to avoid puncture. For fresh foods and treats, you will likely need to use refrigerated trucks/freight cars, and/or pack the goods with dry ice.
Labeling these requirements on the packaging can avoid any confusion and help last-mile workers get it right.
2. Put transparency first
A 2023 NIH study showed that pet owners value the health of their pet's food as much as or almost as much as they value the nutrition level in their own meals.
Pet owners want to know what ingredients are going into their furry friend's dinner, but the transparency should not stop there. Giving customers the ability to track their packages means easier planning. After all, they don't want to realize around dinner time they've run out of food for Fido and need to think of a plan B.
3. Use a trustworthy inventory management system
Keeping track of all of your product types and variations will be a headache without the right tool.
There are plenty of warehousing providers who use quality software optimized to track and manage high-SKU inventories. Your job as an e-commerce retailer is to do a little bit of research to ensure that the provider you work with can meet your needs.
We'd recommend looking at which logistics providers retailers in your industry are using and see what works for them. If another pet product company is doing well with a provider company, chances are they will be able to handle your demands too.
CBIP can help you impress customers with flawless logistics
If managing all those details gets overwhelming, consider working with a 4PL. A company built to manage all the details of logistics for you.
At CBIP, we know all about the manifold challenges e-commerce retailers face when dealing with many different product times. Not to worry; we'll use our global network of trusted logistics partners to sew together your perfect logistics to please your buyers and their pets.
We're interested in making this business about you, so give us a call or email today for a free consultation.