Unpacking the Top 5 Causes of Shipping Delays
Struggling with shipping delays? We've unpacked 5 causes and ways to cope.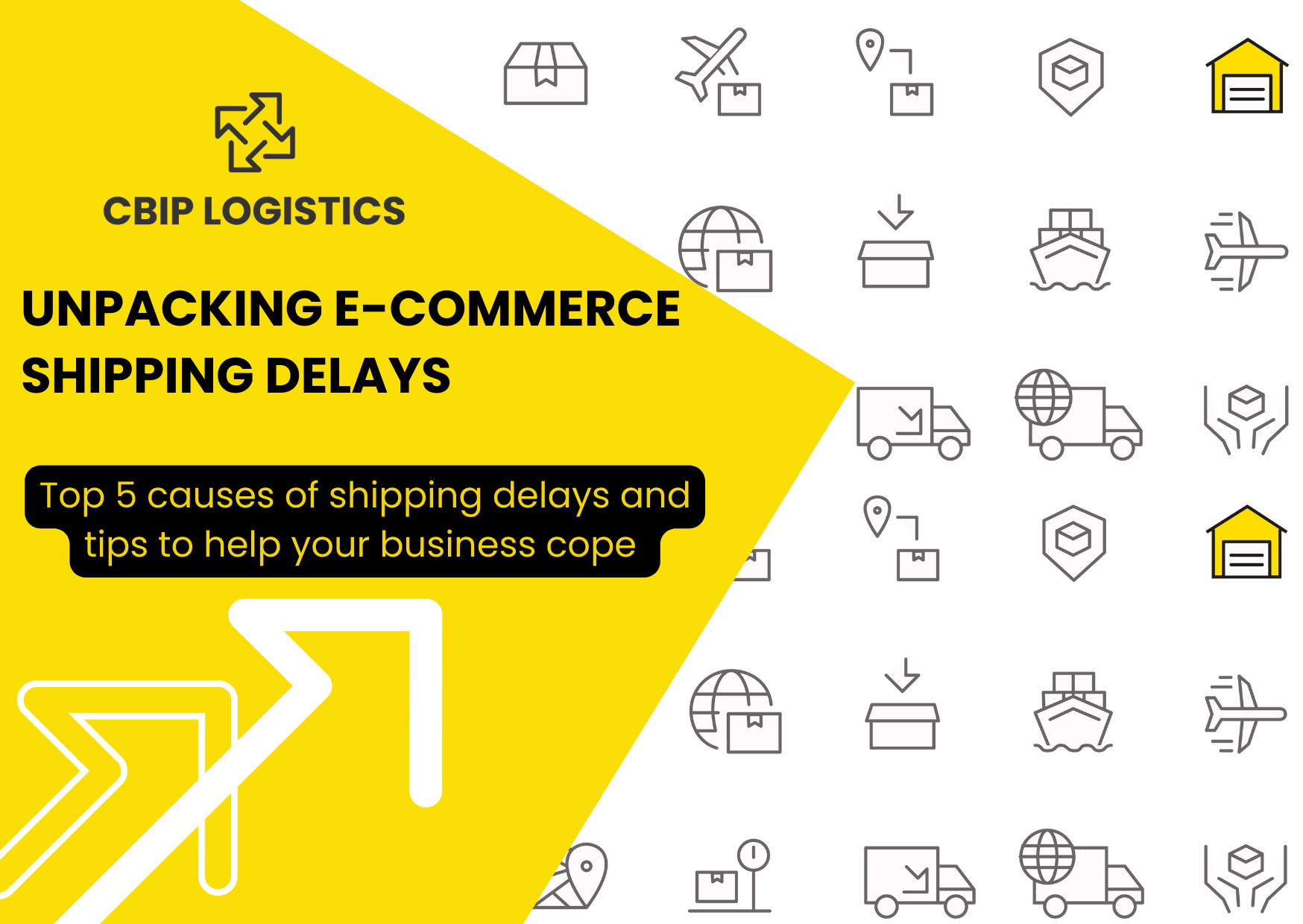 One of the biggest challenges that e-commerce businesses face when it comes to shipping is dealing with shipment delays.
These can be caused by a variety of factors, including weather conditions, technical delays, and improper packaging.
The COVID-19 pandemic has also caused significant disruptions to global supply chains and shipping networks, leading to widespread delays in shipping times for e-commerce businesses. These delays have had a significant impact on e-commerce businesses, leading to lost revenue, increased customer complaints, and damage to brand reputation.
To mitigate these challenges, businesses have been forced to adapt their shipping strategies, including offering alternative shipping options, partnering with different carriers, and adjusting their fulfillment processes to better manage inventory and reduce shipping times.
Understanding what can cause these delays and how to prevent them is essential to ensuring your customers receive their orders on time. In this article, we aim to demystify shipping delays with a simple guide to their top 5 causes and solutions.
Read about CBIP's Adaptable 4PL Logistics Services
What Are the Common Causes of Shipping Delays?
Shipping delays can be frustrating for both e-commerce businesses and their customers. Some of the top causes for delays we see are
Weather-related disruptions
Poor inventory visibility
Technical glitches or system errors
High demand or peak season
Improper packaging
By being aware of these common causes, e-commerce businesses can take steps to minimize the risk of shipping delays and keep their customers happy.
Weather-related disruptions
The Federal Highway Administration reports that 23% of all delays are caused by bad weather, resulting in 32 billion lost vehicle hours per year.
Storms, hurricanes, heat waves, and other extreme weather conditions can all put a bottleneck in your shipping operations. In the worst cases, you may even have to force total rerouting of time-sensitive cargo. Retailers can plan ahead for bad weather conditions by using real-time tracking solutions that monitor environmental conditions with GPS. Solutions like this allow you to gain total visibility over your shipment's movement, receive regular updates, prevent any unauthorized activity or suspicious routes, and easily reroute freight if necessary.
Weather telematics
Weather telematics as a vehicle telematics solution can be used to provide real-time data on weather conditions that may affect shipments.
Companies can use this data to make more informed decisions regarding shipping routes and to better monitor the condition of cargo— including temperature, humidity, and other important factors.
Weather forecasting
Offshore weather forecasting services can be used to receive real-time data on weather conditions that may impact your shipments. Simply utilizing info from weather forecasts can reduce the likelihood of delays caused by weather-related issues, ensuring that shipments arrive on time and in good condition.
Poor Inventory Visibility
Inadequate visibility can create problems in your order fulfillment process, like back orders or incorrect orders because of inaccurate stock levels.
The only way to ensure you are meeting customer demand is to have good inventory visibility and accuracy.
Technical glitches or lack of automation
Automation is key to minimizing errors and eliminating unnecessary steps while optimizing the process. In logistics, automation is crucial for a positive customer experience; a whopping 97% of customers expect to be able to monitor their orders throughout every step of the shipping process.
Automated Storage and Retrieval Systems (ASRS)
Installing an automated storage and retrieval system (ASRS) for automated storage clearance and replenishment will help ensure all products are available when needed. plus, it'll free up workers from tedious tasks so they can focus on tasks to speed up fulfillment processes.
RELATED: How Technology is Transforming Logistics: The Shipping Edition
High Demand and Peak Seasons
Unfortunately, you may find that your fulfillment processes aren't as fast as your customers expect them to be—particularly during peak seasons and demand spikes.
To beat these kinds of delays, here are some strategies you can apply:
Increase Storage Space
By increasing your storage space, you can improve order-picking efficiency and minimize bottlenecks that can occur during peak periods. Using a larger warehouse or spreading out inventory among multiple storage facilities gives you plenty of room to store all the products you need to fulfill orders quickly and efficiently.
Offer flexible delivery options
Being able to offer customers different delivery options such as standard or express shipments gives them more control over their buying journey —that means repeat shoppers and higher revenue for your business.
Insufficient Packaging and Wrong Labels
If items are not properly packaged, they can be damaged in transit, causing delays and even costly returns.
This problem is particularly prevalent if your shipment needs to get transferred from one carrier to another.
If there are any discrepancies with your labels—if the SKU numbers are incorrect, for example—the carrier may not be able to process your shipment correctly, and your parcel won't get delivered on time.
Quality Control
An effective solution to prevent bad packaging or wrong labels is to implement strict quality control measures in the shipping process.
This can include spot-checking packages for accuracy and training employees on proper packaging and labeling procedures. By ensuring that packages are correctly labeled and packaged, companies can reduce the likelihood of delays caused by incorrect shipments.
Proper labeling
Labeling your packages properly and double-checking all labels for accuracy before you accept them from your supplier is a great way to avoid loss of shipment.
Additionally, make sure to store labels properly in a safe place—organizing them by SKU number or tracking number makes them easier to find when you need them in a hurry.
Want a one-stop-shop solution to reduce delays?
Shipping delays are a fact of life in e-commerce. Instead of investing your resources into building up an in-house team to manage your shipments, consider working with a 4PL partner who can do it for you—and provide quick solutions when things go off the rails.
Working with CBIP gives you access to our extensive network of logistics providers worldwide giving you all the choices you want when something goes wrong with your shipment and you need an alternative solution fast.
As your full-service fourth-party logistics partner, we won't only set up your logistics operation using our partner network; we will also help out with all the details, like package tracking and linking all the tech from your logistics providers into one interface.
Want to chat with us about our technique for running a successful e-commerce business from the first click to the customer's doorstep? Contact us today for a free consultation.