Want to Start Selling Online to Europe? Here's How to Do EU E-Commerce Right
Our guide to European e-commerce selling.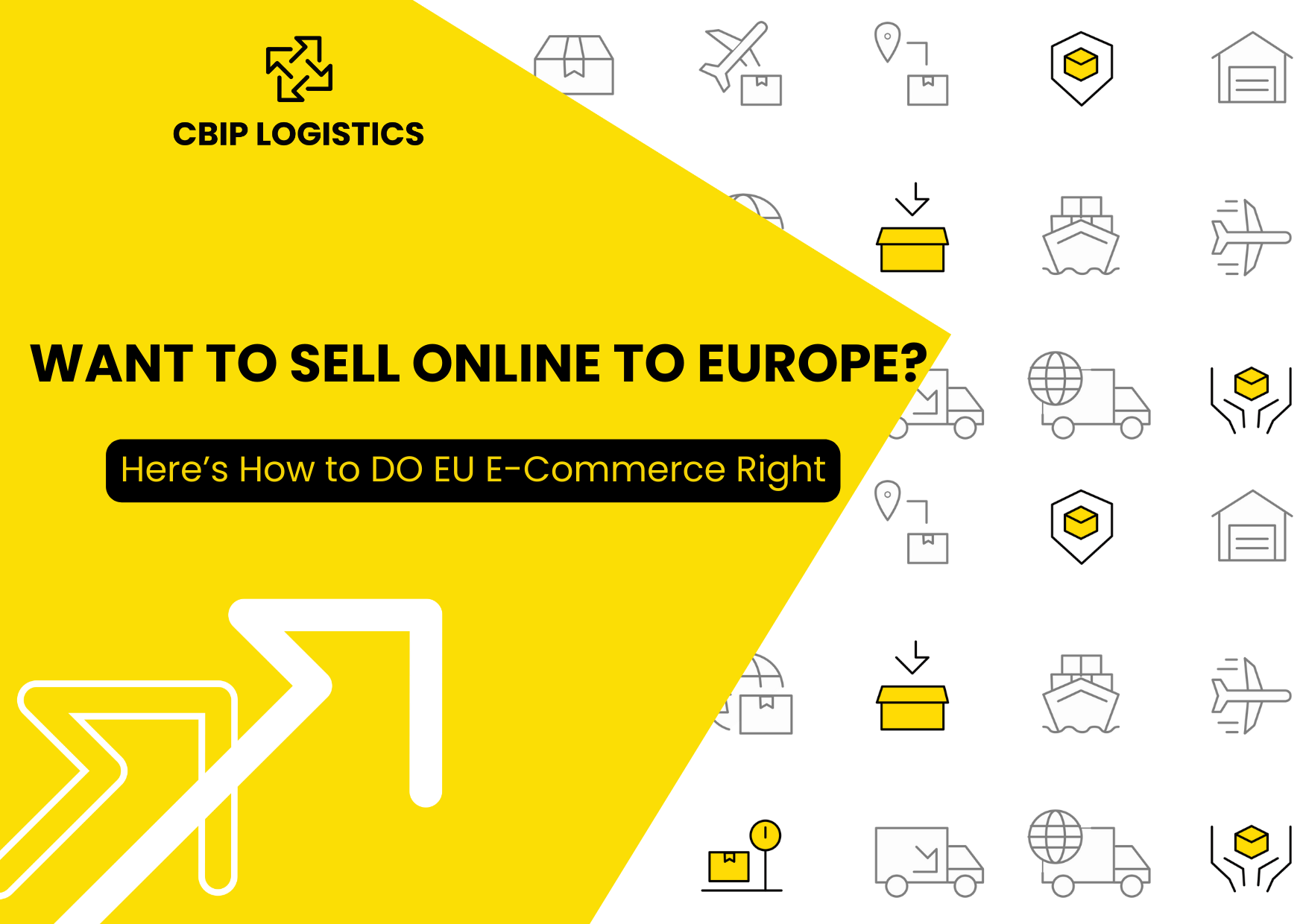 Online selling to Europe is becoming increasingly attractive, and it's not hard to see why. When you expand into one European country, you are then able to sell to all 27 of the other EU members, giving you access to 448.4 million new customers.
However, many non-EU retailers may be apprehensive about entering the EU market. After all, European customers are used to fast shipping, and no one likes to be hit with surprise tax fees for purchasing from an overseas entity.
Traditionally, this has made it difficult for non-European e-commerce retailers to compete.
However, two factors have made that point less of a barrier:
First, the increase in competition between international couriers has resulted in much more affordable international rates. This has made it easier for overseas retailers to sell products to the EU without having a fulfillment location in the EU.
Second, the option to fulfill locally has become more accessible thanks to the growing number of global logistics providers.
While fulfilling from your home base may work for some customers, things will start getting expensive and cumbersome for both the customer and your company.
As demand grows, you may want to start strategizing for the long term and look into setting up fulfillment operations in the EU.
Check out our steps to make sure you have everything you need when that time comes!
Read about CBIP's Adaptable 4PL Logistics Services
How to sell online in the EU, step-by-step
So, you've decided to sell to the EU. If you will only be fulfilling from your home country, that's great; you will not have to worry about the next three points (but you should pay attention so you know what to do in the future).
For those who have decided to sell products using a localized fulfillment strategy, congratulations; you will now be able to take advantage of things like fast shipping, lower transportation costs, and quicker returns management.
Before you start posting your items up for sale, you need to make sure you have your ducks all in a row. There are three key areas you need to see to: taxes, product certifications, and logistics providers.
Step 1: Figure out your tax responsibility
Deciding to fulfill EU orders out of an EU fulfillment center means that you will need to ship products in bulk into the European Union. And that means you're going to need to figure out what taxes you are on the line for.
If you've looked into selling in Europe, you are probably familiar with the term VAT tax. You need to obtain a VAT and an EORI number in order to sell in the EU, and then you need to keep track of what needs to be paid as you import into EU countries.
In order to import stock into Europe, you legally need either an EU tax accountant or an importer of record. That part will make sure that your EU taxes are paid properly and can clear customs without issue.
Step 2: Make sure your products are EU compliant
In traditional retail, the importer would be responsible for ensuring that products are compliant with EU law before going through customs. For e-commerce, it's a little different.
Webshops and online marketplaces are not responsible for making sure your products conform: you are. As an e-commerce seller, you must ensure your products are compliant and come with the required labeling and documentation before you sell them to an EU customer online.
Before you post your products for EU sale online, you will need to figure out:
Which of your products need

CE marking

or other mandatory product labels, including language requirements for labeling

What technical documentation and EU conformity declarations need to accompany your products
To avoid mistakes, we'd highly recommend working with an experienced partner who can prep your products to go through customs.
Is it the same for all EU countries?
Once you have product compliance in one EU country, you should have it in all.
However, in reality, countries retain certain rights to require special labels and certifications for products being sold in that country, so you have to keep an eye out for that.
For example, countries like Germany and France will require you to have certain environmental standards for your products, so you will need to register your business for an EPR, or extended producer responsibility.
RELATED: How to Expand Your E-Commerce Business Into New Markets and Make a Profit
Step 3: Finding trusted logistics partners to work with
As mentioned above, you will need an importer of record or tax accountant to ensure that your products can clear customs.
You may also need any number of these logistics providers:
Customs broker

Freight forwarder

Truck freight transport

Warehouse

Fulfillment center

Local carrier
In order to import stock into the country, you'll need to either find and hire a grocery list of logistics providers or hire one fourth-party logistics provider who can take care of everything.
Should you hire each freight forwarder, importer, and fulfillment center separately, or should you elect to work with one 4PL instead?
Working with one 4PL will cut out a lot of the stress and time spent searching for individual providers, but e-commerce logistics is not one-size-fits-all. We'd recommend you do your research into different companies to find out which is right for you.
If you are interested in finding out more about the 4PL route, you can start by checking out us, CBIP.
Simplify your international logistics with a 4PL partner
If you are not interested in searching out individual providers, why not talk to a global 4PL that can take care of every one of those roles?
If you work with CBIP, we can take care of everything mentioned above — taxes, product certs, fulfillment — for every market that you sell to around the world. Plus, we will consult you on how best to go about launching your European business.
As an experienced global logistics provider, we work with a diverse network of providers. When you become a partner with CBIP, we take the time to look through all of our partners and select the ones that will work best for you.
Interested in learning more about how CBIP can make your European fulfillment a breeze? Call us today to get a complimentary logistics consultation.