What is 4PL? And Why Might it Just Save Logistics?
If you are shipping goods in 2022, then you'll probably need to know 4PL. It may just be the Uber of the modern logistics industry.

In the late 2010s, fourth-party logistics (4PL) quietly swept the logistics industry.
According to The Insight Partners, the global 4PL market was valued in terms of revenue at US$56.4 billion in 2019. And It's predicted to keep growing and reach US$78.9 billion by 2027 (Statista has it clocked at US$86.2 billion)
But what is this rising giant in logistics and what does it offer that other logistics providers haven't before?
As recently as 2005, fourth-party logistics (4PL) was little more than a pie-in-the-sky concept developed by tech giants like IBM and Accenture as a new avenue for their consulting software.
Read About CBIP's Global 4PL Logistics Services
The idea was lofty— 4PLs were software solutions that could serve as a company's entire shipping department – letting you interface directly with logistics providers, compare them based on rates and delivery speed, and select according to your needs. It could crudely be compared to Uber or Airbnb for shipping and fulfillment.
But despite the ambitious claims and hefty investment, 4PL failed to emerge as a viable alternative to modern logistics back in 2005. And fast-forward to 2021, Accenture and IBM are nowhere near the fourth party logistics industry
However, a growing number of newer providers today have appeared using modern technology to try to do 4PL right.
4PL has risen again alongside industry 4.0 (also called the fourth industrial revolution), a movement that was coined in 2016 and is characterized by:
Interconnection – the ability for devices and people to easily communicate with each other.
Information transparency – The ability for organizations to collect immense amounts of data and information from all points in the manufacturing process that can be used to improve it.
Technical assistance – using AI and machine learning to help assist humans in problem-solving based on large amounts of collected data.
Decentralized decisions – A concept recently made popular by cryptocurrencies. These are systems that can make decisions and perform day-to-day tasks. Only in the case of exceptions, interference, or conflicting goals, are tasks delegated to a higher level.
4PL applies all of the above concepts to the logistics industry. But to understand how groundbreaking this concept is it is important to understand the other types of logistics that have preceded it.
A QUICK REFRESHER ON THE OTHER "PL'S"
First-party logistics (1PL) is when one business owns its logistics process (think farmers carting their own produce to the markets). These are not so common today.
Second-party logistics (2PL) is probably the first thing you think of when you hear the word "logistics" today. They are businesses that provide solely for the transportation of goods, usually with an in-house fleet of trucks, ships, and/or airplanes.
Third-party logistics (3PL) has become increasingly common in the modern market due to the move toward a more global supply chain. They can be seen as 2PL deluxe. They provide the functions of 2PLs on top of additional services like warehousing, IT solutions to better analyze good transportation routes, customs brokerages, and more.
RELATED: HOW TO TAKE YOUR ECOMMERCE BUSINESS GLOBAL
3PL VS 4PL
It can be easy to confuse 3PL and 4PL, as they both provide services that scale on the traditional models of logistics. However, the two are quite different.
3PL and 2PL companies own their own assets like warehouses and transportation fleets while 4PLs find these assets for other companies.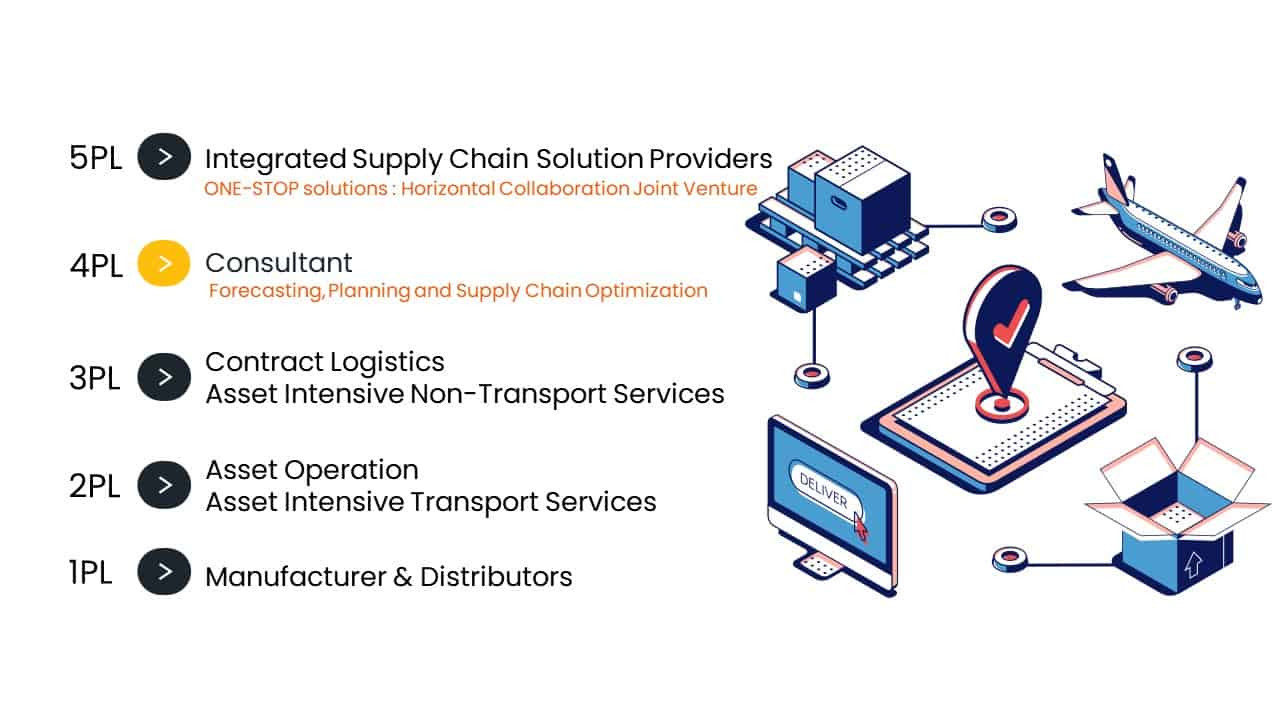 FOR EXAMPLE:
Let's say one 3PL specializes in shipping goods from Vietnam to Germany through a particular shipping route. However, perhaps this company must always ship to the same port in Germany because they own warehouses in that particular port.
But what if customs costs for shipping to that port in Germany skyrocket? Clients working with this 3PL provider would be forced to either take on the increased costs or go back to the drawing board and find a new logistics provider altogether.
Even worse, clients may not even hear about the situation until the goods have been shipped to the other port. That can quickly turn into severe delays and risk upsetting customers.
As e-commerce continues to increase customer expectations of delivery speed and transparency, options like these aren't really options anymore. Here is where 4PL shines.
A competent 4PL in the same situation could provide you, the client, with a long list of 3PL and 2PL operators in the region to use as alternatives – before these delays become a problem. This allows you to resolve the issues with a time and price that work for you and your customers.
Unlike 3PLs, 4PLs own very few actual assets besides software. Again, you can think of them like an Airbnb for logistics: they don't own any of the locations on their website, they just provide the market access for you to select them yourself.
4PLS MAKE COMPLICATED SUPPLY CHAINS EASIER
As supply chains become more complex, clients are not just concerned with moving freight from point A to point B. They are consolidating freight from all over the world. They need to account for new e-commerce concepts like speedy returns too.
For example: Let's say you want to consolidate goods from multiple countries in Asia (for example Vietnam and Cambodia) into one country before exporting so they are easier to track.
Coordinating 3PL services across multiple countries so that all arrive in the same port for shipment at about the same time is tough – and it would likely require a full in-house logistics team to pull off successfully. If you are a growing organization without a shipping team, then a process like this may be impossible.
By working with a 4PL firm, your business can have a single point of contact for managing your supply chain instead of a laundry list of carriers, hauliers, and warehouses to manage. They can take the place of your in-house shipping team; arranging and managing contracts for you.
Most importantly, 4PLs can increase the cost-effectiveness of your operations by adding technology to your supply chain. A growing number of 4PLs are using AI and databases to give you greater visibility in stock management, supply chain visualization, and even managing packing space in shipping containers.
This lets your business run leaner and gives you the flexibility needed to reach new clients quickly.
AT CBIP, WE HELP YOU DO 4PL RIGHT
At CBIP, we are an Asia-based 4PL firm specializing in providing global logistics solutions from the East to the West.
Want to expand to a new market or simply strengthen your logistics operations? We can help you find a network of providers that meets your needs. We won't just help you find providers either, we can manage everything for you so you can focus on making your business grow.
From fulfillment and last mile to state-of-the-art logistics technology, we do it all. Working with CBIP means you get access to the strongest contacts without the headache of searching through thousands of providers on your own.
Get in touch today for a free consultation and see how CBIP's 4PL operations can make things move better for your business.