What You Need to Know About Same-Day Delivery
What it takes, who is offering it, and how it differs from regular e-commerce logistics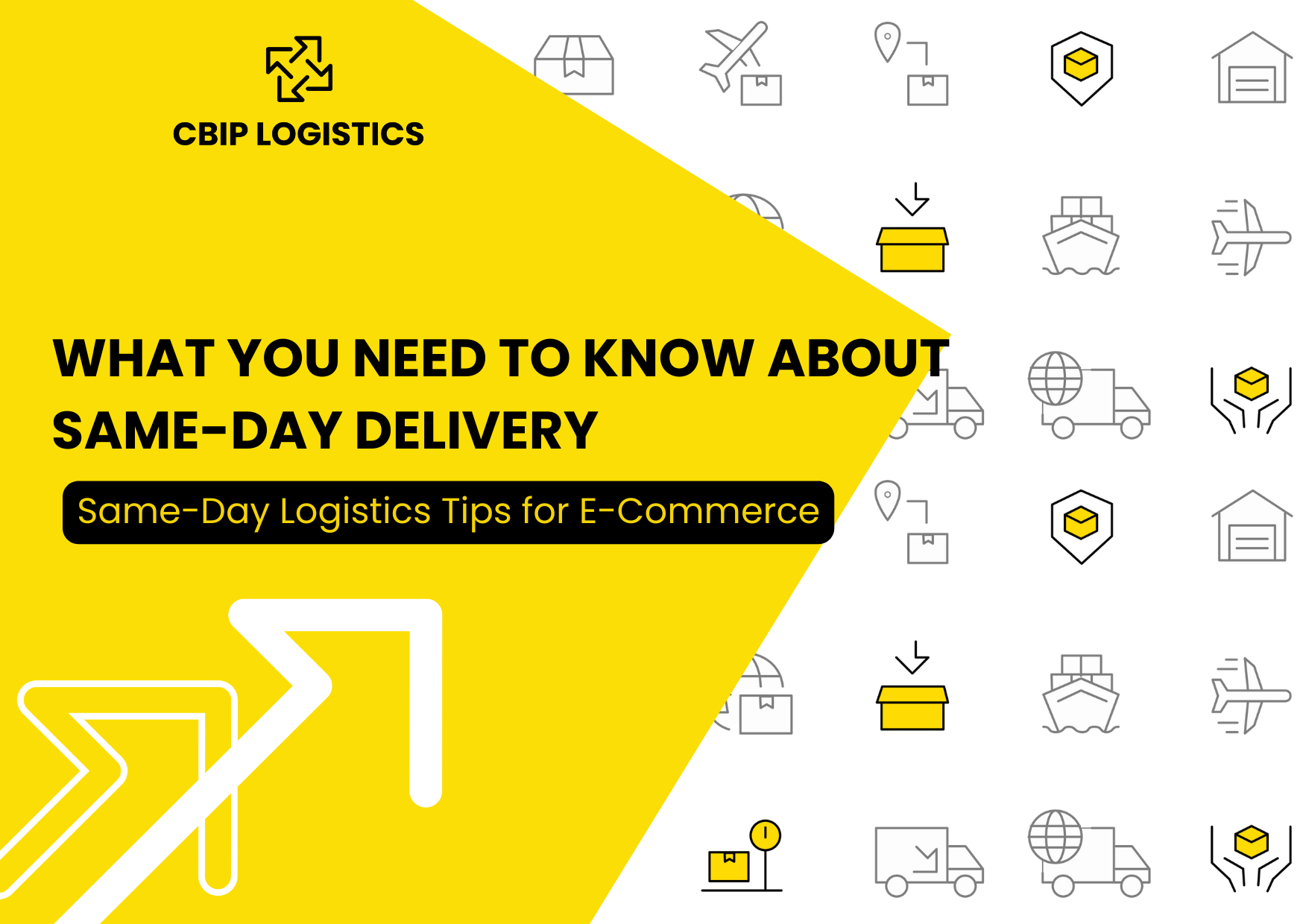 In a recent survey by PWC, respondents noted that convenience was the number one reason to sign up for certain subscription-based services.
The survey showed that consumers want to make purchases—and receive them the same day—without having to make any major changes to their regular routines. That's where the importance of same-day delivery comes in.
Nowadays, two-day delivery isn't enough anymore. Same-day delivery is the standard.
In this article, we'll take a closer look at:
How the process differs from regular e-commerce logistics.
What it takes to make same-day delivery happen
How often companies deliver on their same-day promise
Which companies offer same-day delivery
Read about CBIP's Adaptable 4PL Logistics Services
How is same-day logistics different from regular e-commerce logistics?
The key difference between same-day delivery and regular e-commerce logistics is speed.
To achieve that same-day speed, you need fulfillment operations running around the clock.
For same-day delivery services, cut-off times, meaning the time when your company stops shipping out parcels for fulfillment, are done on a rolling basis. That means you need to have delivery transportation running long past normal business hours, which will cost you.
For regular e-commerce logistics, cut-off times vary depending on location and service provider, but typically are set at 5 pm. Cut-off times are set strategically to be cost-effective for the retailer and to reduce the risk of delays.
As an e-commerce retailer, you have to weigh those costs and benefits to decide whether or not offering same-day is worth the work.
What It Takes To Make Same-day Delivery Happen
Why has the option to order and receive an item in less than 24 hours become the popular standard today? Of course, customers love the instant gratification and convenience of same-day.
However, same-day delivery is no easy feat for most retailers. Why do they do it, then? Simple: It sets them apart. Offering options like same-day shipping is an attractive asset that allows retailers to build their customer base and increase retention rates.
Statistics show that 49% of consumers say that same-day delivery makes them more likely to shop online. The research also indicates that when people think of "fast delivery," the overwhelming majority (96%) of people mean—and expect—same-day delivery.
To make this happen, you need to do two things:
Set up facility centers in key locations near customer base.
Partner with technology platforms to unlock the potential of those locations.
Having conveniently located fulfillment centers and technology that seamlessly connects aspects like your order management, warehouse management, and tracking software is crucial. Those two things will help you cut lead times down, resulting in more efficient order fulfillment that can be completed within 24 hours.
Cutting lead times down
Over time, Amazon has proven that companies must consider investing in logistics infrastructure to reduce lead times.
For example, Amazon has invested heavily in decentralized warehouses to establish same-day delivery as an option for more and more consumers. This means companies must go beyond simply sources of locally available products and have a real-time overview of their inventories so that fulfillment centers can make fast and efficient decisions.
Walmart, one of the world's biggest multichannel retailers, continues to respond to this burden by developing its e-commerce channels. They do so by creating real-time product visibility across warehouses and, most notably, staying flexible regarding last-mile delivery.
However, major investment in logistics infrastructure is not viable for everyone. According to McKinsey & Company, other operating models can make same-day possible for those who aren't able to invest in their own fleet or fulfillment centers, such as:
Using one of the parcel logistics providers that utilize things like parcel locker-boxes to make same-day possible
Using broker platforms like Shutl to find couriers who provide fast delivery
Is it even possible for small to mid-sized retailers to offer same-day?
Few companies have the facilities that Amazon or Walmart have, so how do they stay competitive?
For smaller retailers, you can optimize your operation quickly by keeping lower variable costs. For example, companies can aggregate local courier capacities on broker platforms to form more flexible courier networks.
Companies like Shutl offer a courier network that costs less than hub-and-spoke systems for orders of less than 15km—ideal for smaller orders—cutting down variable costs per hour and distance between stops.
This proves that asset-light technology companies can compete with more prominent companies and, in the long run, can attract venture capital from larger investors to help scale your small business.
RELATED: Why Omnichannel Fulfillment Helps You Reach Customers
Companies that offer same-day delivery
Projections show that in the next two years, 65% of retailers plan to offer same-day delivery in an attempt to match customer demands.
Here are a few companies already doing so:
Amazon
Amazon has long been a critical player in same-day delivery services. Customers who sign up for an Amazon Prime Membership ($12.99/month; $119/year) receive free same-day delivery for orders over $25.
However, even if you are an Amazon Prime member, the availability of same-day delivery depends on which select city/region in the U.S. you're located. Currently, this offer stands in 90 U.S. metro areas, including San Francisco, Los Angeles, Philadelphia, Phoenix, Orlando, Detroit, Miami, and Dallas.
Walmart
Another major player in same-day delivery services is Walmart. The Walmart+ Membership cost is similar to Amazon's regarding monthly and annual fees, as well as being able to offer free delivery on orders over $35.
Although there are some limitations to where you are located in the U.S., according to Tech Crunch, Express Delivery is available in nearly 3,000 Walmart stores reaching 70% of the U.S. population.
Instacart
Another company that specializes in providing customers the ability to shop and have products delivered that same day is Instacart. These stores include Bed Bath & Beyond, Michaels, and grocery stores such as Tops Market and Shop Rite.
Like Amazon and Walmart, Instacart Express members pay monthly and annual fees to receive free shipping for orders over $35.
Other Companies Offering Same-day Delivery
While companies like Amazon, Walmart, Instacart, and others like Dolly, Favor, or Postmates offer same-day delivery services for "everything," other companies focus on specific categories.
For example, customers opt for DoorDash, Uber Eats, and GrubHub for food.
There's CVS Pharmacy, Rite Aid, Sephora, and Walgreens for health and beauty products. Macy's, Bloomingdales, Dick's Sporting Goods, and Nordstroms focus on clothing and apparel products.
For flowers, customers turn to businesses like Florists' Transworld Delivery and Teleflora to provide same-day delivery services that can help make someone's day feel extra special—even if you forget until the actual special day to remember to bring flowers.
Whether companies are category-agnostic or category-specific, 56% of online consumers between the ages of 18 and 34 expect to have same-day delivery. Stats like these press retailers to develop solutions to meet those expectations.
CBIP Logistics and Same-day Delivery
A recent survey showed that 87% of industry decision-makers plan to expand their warehousing operations in the next year. Therefore, retailers are moving fast to keep up with customer expectations, and the only way to get super-fast shipping is to optimize your fulfillment.
At CBIP, we know that increased expansion calls for more acute execution. As a fourth-party logistics business, we can make sure your fulfillment process is optimized to provide you and your customers with the shipping speeds you need.
Instead of the usual robotic logistics provider experience, we work with you as a partner to create airtight logistics, selecting the providers that fit your unique needs from our network.
Want to offer same-day shipping for your customers, but not sure how to make it happen? We have you covered with the advice, fulfillment centers, and centralized platforms you need to make it happen.
Ready to start delivering on a same-day promise? Reach out for a free assessment with one of our pros.