10 Warehouse Terms Every E-Commerce Business Owner Should Know
Struggling to learn the warehousing lingo? Get started with these 10 crucial warehousing terms.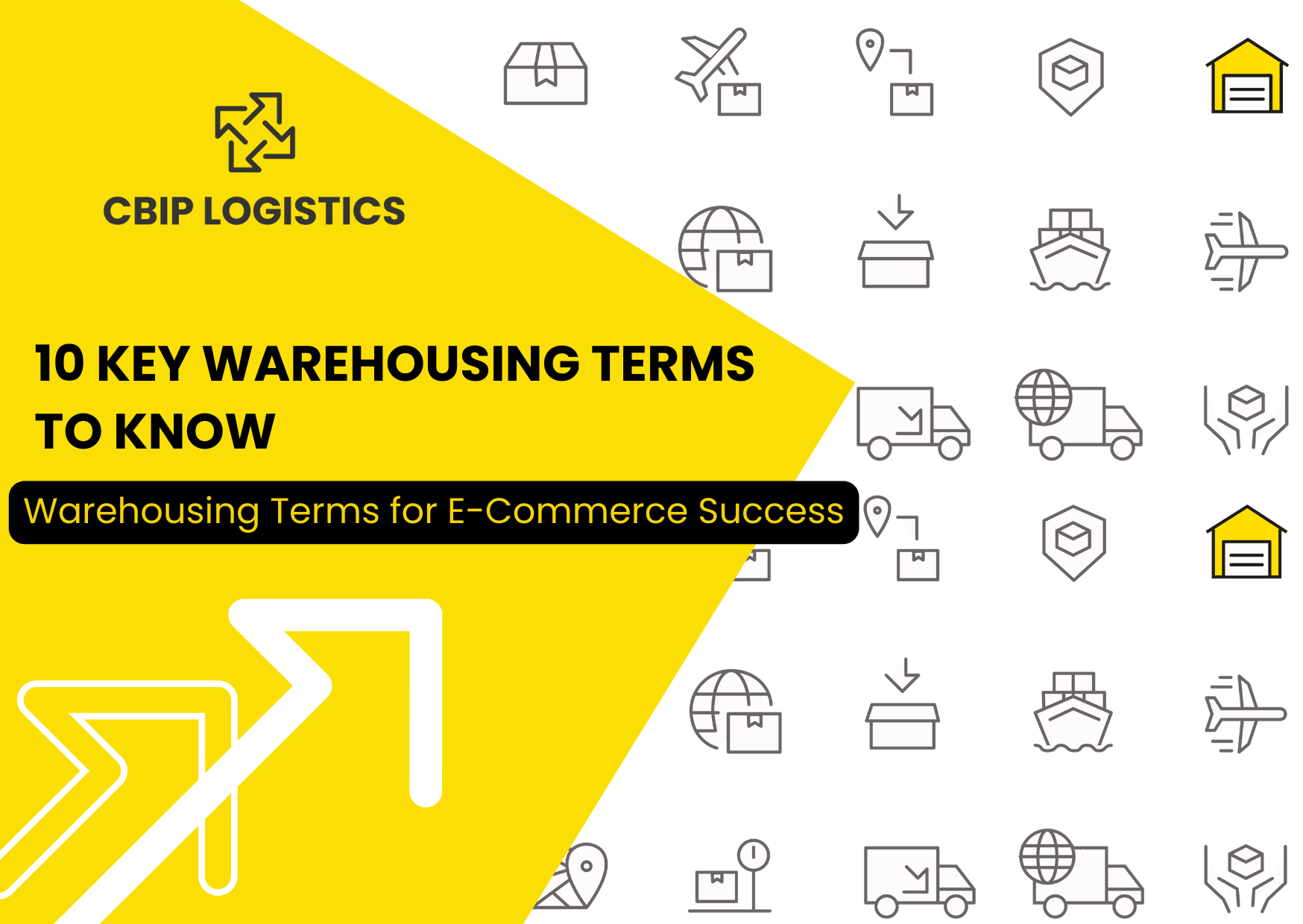 For many e-commerce business owners, learning about the nitty-gritty details of logistics can be daunting.
As an e-commerce retailer, you may need to have warehousing operations spread all over the globe. It's hard enough trying to translate through cultural and language barriers; you also need to be able to understand the warehousing terms and acronyms your partners use on a daily basis.
Learning how to communicate with suppliers throughout your logistics chain can be tricky, particularly when it feels like they aren't speaking the same language as you. While you don't need to be an expert in warehousing, we want to help you understand some key warehouse terminology so that you can avoid mix-ups.
To get you started, we made you a list of ten important warehousing terms to know — check it out!
Read about CBIP's Adaptable 4PL Logistics Services
Top warehouse terms to get you started
Our list includes ten of the most common terms and acronyms surrounding day-to-day e-commerce warehousing. We've included definitions, along with info tailored to your day-to-day needs as an e-commerce company.
Remember: Even after you've learned these, it's always safer for you to avoid confusing terminology when dealing with vendors or clients. Speak in plain vernacular language to those you aren't sure will understand the lingo!
1) Fulfillment Center
A fulfillment center is just another term for a warehouse where e-commerce orders are processed.
Note that a traditional warehouse is meant only for the storage of inventory, and a fulfillment center stores inventory and processes orders. However, the terms "warehouse" and "fulfillment center" are often used interchangeably in e-commerce logistics when referring to a warehouse where orders are processed.
As the percentage of e-commerce sales in retail has grown, so has the number of fulfillment centers. Although things have slowed down in 2023, the global warehousing and storage market reached US$ 477 Billion in 2022, and that is expected to grow by CAGR 4.86% between 2022 and 2028.
If you aren't already familiar, it will also be helpful for you to have some understanding of the process of what happens at a fulfillment center.
Broken down into simple steps, fulfillment center operations go something like this:
The fulfillment center receives a product shipment from your supplier, at which point the fulfillment center employees process the shipment and put it away until needed.
Once the fulfillment center receives an order from your sales software, employees retrieve the items needed for that order
The fulfillment center employees then package the order and load them onto the truck to ship out to the final customer.
As an e-commerce seller, you need to keep careful track of when your goods are arriving at and leaving the fulfillment center.
If you don't feel that you have the oversight to do that, we would suggest outsourcing the management of your fulfillment centers to an experienced fourth-party logistics provider.
2) LTL (Less Than Truckload)
Less than truckload is a shipping service for relatively small loads.
If you need to ship small loads very often, hiring an entire truck for your small load is inefficient and expensive. With LTL, you are sharing space in the truck container with other loads.
Since they are including multiple loads from different sources, they operate on a hub and spoke model. Trucks load freight as local terminals (the spokes), then they transport the freight to the hubs where they are then directly delivered to end users—or put onto other trucks for further transportation.
LTL is offered by a number of national mail services and logistics providers. Each provider has a slightly different set of standards to make their LTL requirements, but in general, your load can take up no more than 24 feet of the truck.
In order to decide what freight shipping option is best for you, consider the quantity, weight, and type of product you are moving. Some of the other modes of freight shipping include:
Full truckload
Intermodal
Expedited
Air freight
Arranging truck freight incorrectly can result in all kinds of trouble, including:
Incorrectly packed parcels leading to broken items
Unnecessarily high freight costs
Delays and failure to deliver
Avoid wasting time and money by making sure you understand what kind of freight is best for you in the first place.
3) Lead Time
In general, the term "lead time" refers to the length of time it takes to complete a process or project.
In the context of warehousing, lead time typically refers to delivery lead time, or the amount of time it will take you to get the order to your end customer after you've received the order.
In different contexts, you'll find different types of lead times. Other instances when you may hear the term lead time are:
Supplier lead time
Production lead time
Inspection lead time
Stocking lead time
4) PO (Purchase Order)
In e-commerce logistics, the purchase order refers to an agreement to purchase submitted by a customer on your sales platform. That purchase order is then received by the employees at your fulfillment center and processed.
The purchase order exists to:
Track orders
Process fulfillment
Serve as an audit trail
5) SKU (Stock Keeping Unit)
The SKU is a unique number used to track inventory internally.
The SKU number provides all sorts of information for your systems. Based on the numbers, you can tell the size, color, style, and many other important product characteristics. Those numbers help you easily keep track of what you are selling
SKUs give you a way to keep track of inventory. They allow you to quickly and accurately estimate when you will need to order new inventory and what exactly you need so you're never caught without stock.
These numbers are also helpful when it comes time to look at the data and see how your company is doing in a given period.
RELATED: Why Warehouse Management Makes Your Business Better
6) UPC (Universal product code)
The UPC is a unique 12-digit number your warehouse team uses to scan the product into the system.
Apart from allowing your product to enter the warehouse system, the UPC allows you to track your product as it is sold, shipped, and received by the end customer.
7) Barcode
The barcode is the ID system made up of numerous parallel lines of varying thicknesses used to track, scan, and process inventory.
Unlike an SKU, which is unique to your business and for your internal use, a barcode works the same wherever it is. The barcode can be scanned anywhere to give each provider in your logistics chain important information on the item.
Barcodes help you and your logistics providers:
Track inventory
Verify pricing
Track shipments
Verify product authenticity
Manage returns
8) RFID (Radio Frequency Identification)
This technology transmits data from an RFID tag to a reader, giving you real-time tracking information on your inventory.
RFID tracking is immensely helpful for giving you the most accurate tracking and real-time info on your inventory and shipments.
You can use RFID to track your shipments from afar and to keep track of your inventory as it enters and exits your warehouse. That real-time inventory data is incredibly valuable for customer service, as it gives your customer reliable info on when products are in and out of stock.
9) WMS and OMS
WMS and OMS are software designed to give critical oversight over logistics processes.
Warehouse management software deals with everything that happens between the time your goods enter a warehouse/fulfillment center to the time they leave.
The WMS manages various processes that happen in a warehouse, including:
Inventory tracking
Picking and packing
Receiving
Putaway
An order management system functions as a centralized dashboard where you can track customer orders as they come in and are fulfilled.
Aligning orders and inventory across multiple channels is very difficult using just pen and paper. Particularly if you sell across more than one sales channel, OMS can be helpful.
Order management systems allow you to:
Track stock levels across warehouses
Combine order data across multiple channels
Coordinate with logistics providers
10) FIFO and LIFO (First In First Out/Last In First Out)
FIFO and LIFO are two popular accounting methods used in logistics. The idea is to pick the method that boosts your profits and lowers your business's tax burden.
For FIFO, the older inventory is supposed to get shipped out before the newer stuff. This avoids losing money unnecessarily due to inventory expiration.
Since FIFO will give you a lower cost-per-unit in your books, your earning will look higher and you will need to pay more taxes. You may want to choose LIFO with nonperishable items if it will result in a lower tax burden.
Team up with the pros to stop worrying about your fluency in warehouse-lingo
While it's important to educate yourself on what's going on in your warehouse, the best way to avoid mishaps at the end of the day is to team up with a logistics pro.
At CBIP, our team is dedicated to making your warehousing operations transparent and efficient.
With a network of warehouses spanning the globe, we'll give you all the options you need for seamless logistics— and we'll manage it all for you.
Working with CBIP means getting the customer service you need when you need it, from day-to-day operations to troubleshooting any logistics issues that may arise.
Having trouble understanding what's going on with a warehouse or other provider in your network? We are here to consult with you, explain what's going on, and make sure that your logistics operations are aligned with your long-term business goals.
If you'd like to learn how CBIP can demystify logistics for your e-commerce business, contact us today for a free consultation.