5 Reasons Why You Should Switch to a 4PL in 2023
How working with a 4PL as your sole logistics provider can optimize your logistics and simplify your life.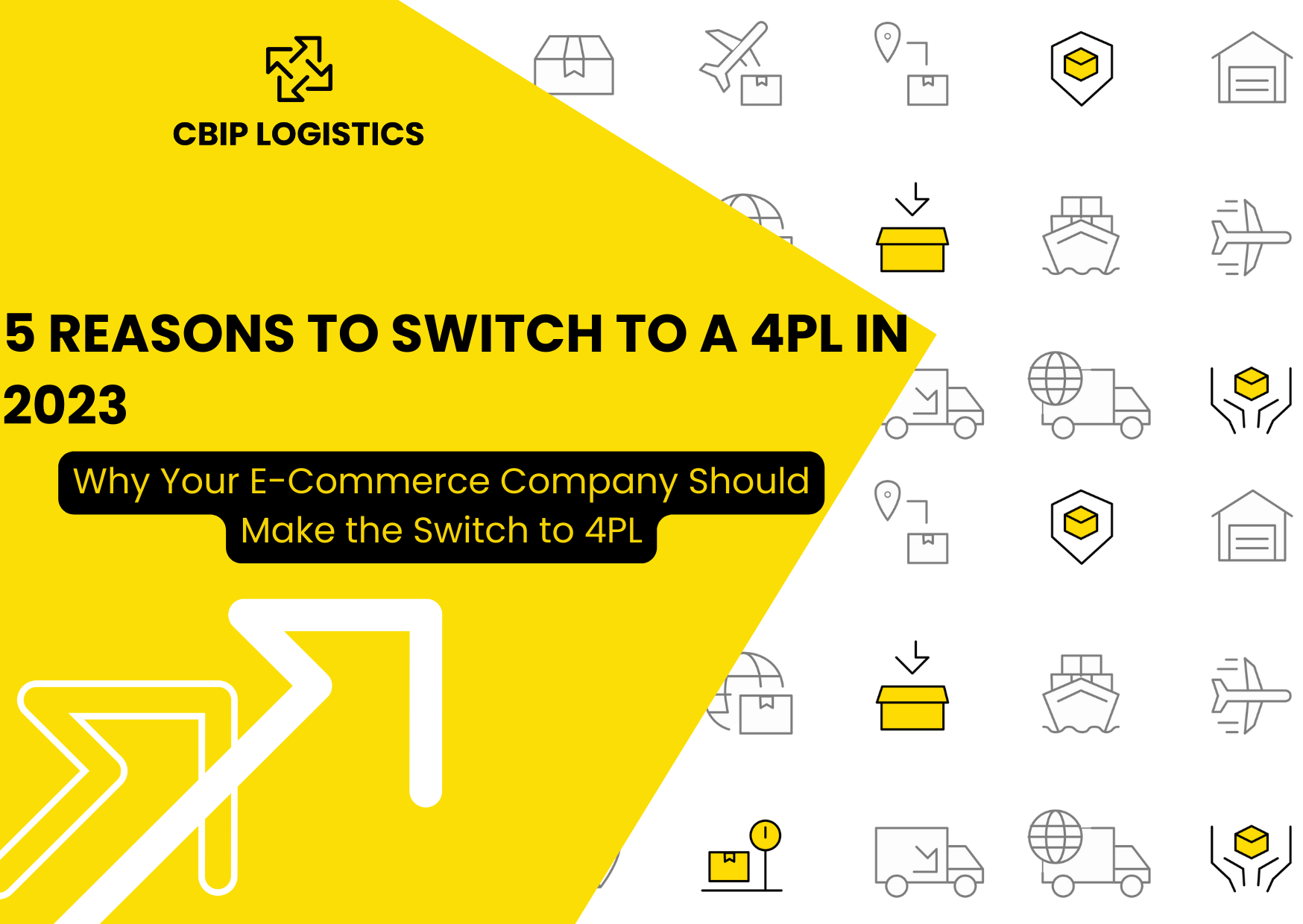 Managing a supply chain can be a challenging task, especially for businesses that lack expertise in logistics and transportation.
If you struggle to balance the costs and complexities of your logistics with trying to meet customer demands and stay competitive in the market, you aren't alone.
A 4PL can provide end-to-end logistics services, handling everything from post-production to delivery, providing you with greater efficiency and cost savings on all your logistical operations.
They can offer customized solutions that are tailored to your specific requirements, helping you achieve your business goals more effectively.
In this article, we'll provide five evidential reasons why it's beneficial for any online retailer to switch to a 4PL now. Let's get started!
Read about CBIP's Adaptable 4PL Logistics Services
What Is 4PL and Why Is It Important for E-Commerce Retailers?
4PL has become a crucial element for e-commerce retailers due to its capacity to manage quicker deliveries and customized fulfillment.
It also helps retailers manage their entire logistics process from order fulfillment and delivery—across multiple jurisdictions and with one single point of contact.
In addition, 4PLs can provide customers with real-time status of their orders. This system enhances e-commerce tracking, providing the best possible customer experience while maximizing efficiency.
Additionally, 4PL providers can leverage their scale and expertise to improve supply chain visibility across your operations, resulting in cost savings.
The future of fulfillment is 4PL
Let us highlight the five major reasons that make 4PL the perfect choice for your business.
Identify Inefficiencies and nip them in the bud
By identifying bottlenecks and problem areas in your logistics, 4PL can help you strategize & build the most efficient logistics program for your brand.
Additionally, they provide industry expertise and insights into the latest trends and technologies that can help you stay ahead of the competition.
Customize Solutions
By working with a 4PL, you can receive customized solutions that are tailored to your specific requirements.
Try as they might, the 3PL's one-size-fits-all approach to e-commerce logistics doesn't help when you want to customize your logistics for your business. This is a key point, as not getting the customized logistics solutions your business needs could seriously hold your brand back.
A 4PL can help you design a logistics operation that is optimized for your business, taking into account factors such as your industry, products, shipping volumes, and more.
RELATED: How to Choose a 4PL Provider
Streamlined Communication
We recognize that juggling communication with multiple vendors can be difficult and lead to delays, increased costs, and dissatisfied customers.
A 4PL can help you streamline communication by acting as a single point of contact for all your supply chain partners. This can help ensure that everyone is on the same page, reducing the risk of errors and delays.
Industry Expertise
The logistics and transportation industry is constantly evolving, with new technologies, regulations, and trends emerging all the time.
An expert consulting 4PL partner like CBIP can help you stay up-to-date with the latest industry trends and technology. Your 4PL can give you the info you need to set you on the right path, providing you with valuable insights and recommendations that can help you stay ahead of the competition.
Flexibility
An experienced 4PL provider gets you options for short and long-term logistics problems. That flexibility is invaluable in times of unexpected changes in market conditions.
With this model, retailers can quickly adapt their strategies according to current needs to remain competitive in the market.
Advantages of 4PL in the Current Market Climate
4PL (fourth-party logistics) providers are taking over as the supreme providers of end-to-end logistics services.
4PLs address intricate logistics complications and provide customized systems tailored to your needs, eliminating the need for multiple vendors.
This system is ideal for retailers, as they can tailor their solutions to their customer's needs in an ever-changing landscape. That way, you're able to stay competitive and adapt quickly in an increasingly crowded market.
Choosing a 4PL provider made easy with CBIP
As a 4PL provider, CBIP offers scalable, flexible, and resourceful solutions tailored to your specific needs. We manage multiple providers, streamline communication, and stay up-to-date with industry trends and technology so you don't have to.
Our tech-enabled approach ensures a personalized, effective, and hassle-free service. With CBIP, you can sit back and relax while we take care of everything, giving you more time to manage and grow your business.
Schedule a free assessment with our team today and let CBIP transform your logistics operations.