Most Fulfillment Cost Explained
In nowadays, DTC brands lack cost understanding, 3PLs differ. Wrong choices = high costs, hidden expenses. Here are the key points I'd like to cover in this article: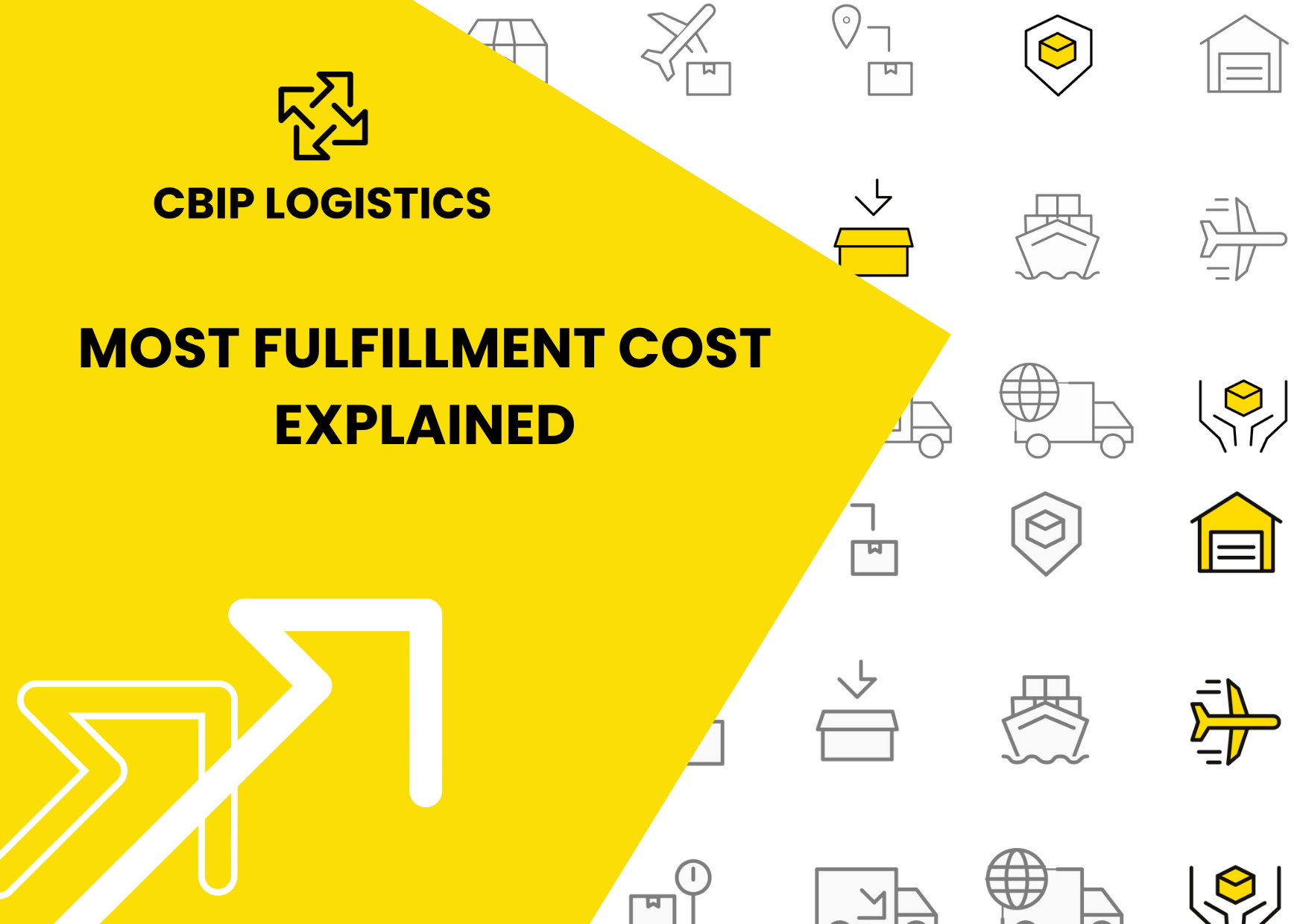 What is the basic fulfillment cost?
These days, everyone talks about how complicated logistics can be, and I can't argue with that—it's true, especially when it hits the rude awakening of operational & customer frustration!. But let's take a different perspective, focusing on the cost side of things. 3PLs have a range of of standard pricing structures for order fulfillment, and you can learn more about it in this cool blog: What is order fulfillment, and why DTC brands should know about it? | CBIP Logistics
Now, we know costs vary quite a bit between different 3PLs, depending on how they operate and where they're located. But here are the basic components that make up logistics pricing:
Onboarding and Setup Fee
This expense covers the initial setup of technology, specifically linking your marketplaces or front stores to the 3PL's Warehouse Management System (WMS) or Order Management System (OMS) and the resources allocated to onboarding you as a customer. This setup ensures a seamless and automated process, eliminating the need for manual tasks and means all parties get what they need upfront (vs later and when the operation has started)
To illustrate, when you connect your Shopify store to the 3PL's WMS, orders from your Shopify store are automatically transmitted to their system. This allows their team to promptly initiate order fulfillment without you having to manually send daily order CSV files every morning.
Typically, this fee is a one-time charge and usually falls within the range of USD 100 to USD 1000, subject to your location.
Inventory Receiving
Sometimes referred to as inbound fees, handling in, or inventory in, the terminology doesn't really matter. What's important is understanding that this step involves your stock arriving at the 3PL's warehouse and what they do with it when it does. The 3PL team unloads the stock from the vehicle, opens the boxes to count the units against the packing list or Shipping Notice, reports any product damage, enters inventory data into their WMS, and applies labels if necessary.
Here's a breakdown of typical pricing for inventory receiving in most 3PL fulfillment centers:
- Per pallet: Usually ranges from USD 5 to USD 20
- Hourly basis: Typically falls between USD 25 and USD80 per hour
- Per unit (piece): Varies from USD 0.2 to USD 4 per unit
- Per box: Generally, ranges from USD 1 to USD 5 per box
The pricing is determined based on the characteristics of the product. For instance, the cost for receiving a large chair would be different from that of a lipstick.
Storage
Storage expenses typically make up around 50% of your overall billing with 3PLs. This cost is based on the amount of space your inventory occupies in the fulfillment center, and you are billed for storage on a daily, weekly, or monthly basis, depending on the specific methodology employed by the 3PL. The unit used for charging may also vary.
In Canada and the US, the majority of 3PL fulfillment centers have storage pricing as follows:
- Per pallet per month: Usually ranges from USD 20 to USD 30
- Per bin per month: Typically falls between USD 2.5 and USD 6
Whereas in the Australian market, storage charges may be structured as follows:
- Per pallet per week: Varies from AUD 15 to AUD 20
- Per CBM (cubic meter) per month: Typically ranges from AUD 15 to AUD 30
- Per bin per week: Generally falls between AUD 1.5 and AUD 6
If your products require special storage conditions, such as temperature-controlled warehouses for chocolates to prevent melting, the cost may be slightly higher than the prices mentioned above.
Order Fee
The order fee is an additional charge that may or may not be imposed by the 3PL. Certain 3PLs apply this fee using their WMS technology, which allocates it to each order. Others include it in the monthly billing. The cost of the order fee typically falls within the range of USD 1 to USD 2 per order.
Note, the unit of measurement (UOM) for this fee is per order. So, if an order consists of multiple SKUs or items, you would only be charged a single fee of USD 2 (for example) for the entire order, rather than multiplying the fee by the number of SKUs in the order.
Pick and Pack Fee
The pick and pack fee covers the process of the 3PL team picking the products for an order and carefully packing them in a satchel or box, including the affixing of the shipping label. It's worth noting that the pick and pack fee may or may not include the cost of packing materials. Some 3PLs choose to charge packing materials separately due to their higher costs.
Here's an example of the fees involved:
- Pick and pack fee: Generally ranges from USD 0.5 toUSD 5 (packing materials not included)
- Packing fee: Typically charged at cost or falls within the range of USD 0.1 to USD 0.5 for satchels, and USD 1 to USD 3 for cartons.
Technology Fee
As previously mentioned, some fulfillment centers may impose a technology fee, which typically ranges from USD 100 to USD 500 per month. This fee covers the usage of their advanced technological infrastructure and systems to facilitate order management, inventory tracking, and other operational processes.
Account Management Fee
In addition to the operational costs, it's important to take into account administrative expenses, such as customer service. This generally handles communications with your team for all account related matters (e.g. reporting, contracts, pricing, billing, planning etc., potentially external partners but most importantly addressing inquiries related to inventory, orders, and shipments. Some 3PLs even provide customer support for shipping and order inquiries from your customers.
The average account management fee typically falls within the range of USD 50 to USD 1000 per month, or an hourly rate ranging between USD 30 and USD 90. This fee covers the dedicated account management services provided by the 3PL to ensure efficient communication and support throughout the fulfillment process.
Return Fee (Reverse Logistics)
As a DTC brand, you understand that there are instances when customers are dissatisfied with their products, whether due to a change of mind or being unavailable to receive the order. In such cases, the last mile delivery service is responsible for returning the order to the sender, which, in this scenario, would be your 3PL fulfillment center.
Upon receiving the returned products, the 3PL performs a quality check (QC) to ensure their condition. Depending on the outcome, the items are either returned to the inventory or stored separately in an isolated location.
It's important to note that the 3PL will charge a return fee to cover the handling of these returned items. Typically, the return fee ranges from USD 1 to USD 6 per item, reflecting the costs associated with the processing and management of reverse logistics.
Why does the DTC brand need to understand the Fulfillment Cost?
Understanding the fulfillment cost is crucial for a DTC brand for several reasons. Firstly, these costs directly impact the business's profit margin. As we know, profit is calculated by subtracting costs from revenue (Revenue - Cost = Profit). Therefore, it is essential to have a clear understanding of the fulfillment costs in order to accurately assess and maintain profitability.
Secondly, fulfillment costs have a direct impact on inventory management. It is important to determine the appropriate amount of stock to be stored at the fulfillment center. There are two key considerations in this regard:
1. Overstock: Holding excessive inventory ties up capital and leads to missed opportunities. The excess inventory becomes a cost in terms of the capital that could have been utilized elsewhere in the business.
2. Understock: Conversely, if there is insufficient stock at the warehouse, it may result in backorders and unfulfilled orders. This can lead to dissatisfied customers and potential loss of sales.
The Trend of Switching from 3PLs to 4PLs nowadays?
Imagine having to deal with hundreds of 3PLs, from the procurement stage to the go-live point, and getting your child (your brand) up and running. It can be overwhelming, to say the least. Additionally, you won't have much time to focus on strategic building to take your brand beyond.
The underline changes you may or may not be aware of, so please take your time to observe them. Many DTC brands have decided to switch and experience the development and embrace long-term supply chain strategies. Here is an article written by one of our founders that will give you more insights into the art of 4PLs: 5 Reasons Why You Should Switch to a 4PL in 2023 | CBIP Logistics
Final thoughts
Understanding fulfillment costs is absolutely crucial for DTC brands. On behalf of CBIP Logistics, we know that the information I've provided has been helpful to you. If you have any further inquiries or need additional assistance, please don't hesitate to reach out and share your thoughts. I'll be more than happy to assist you.
Should you want to learn more or have an immediate fulfillment need, feel free to book a call with me here.
Thank you for reading, and I look forward to connecting with you again in our next blog!
Thao Nguyen
Sales & Marketing Manager