Where to Look for E-Commerce Warehousing in China
Read here for tips on how to find your ideal China warehouse.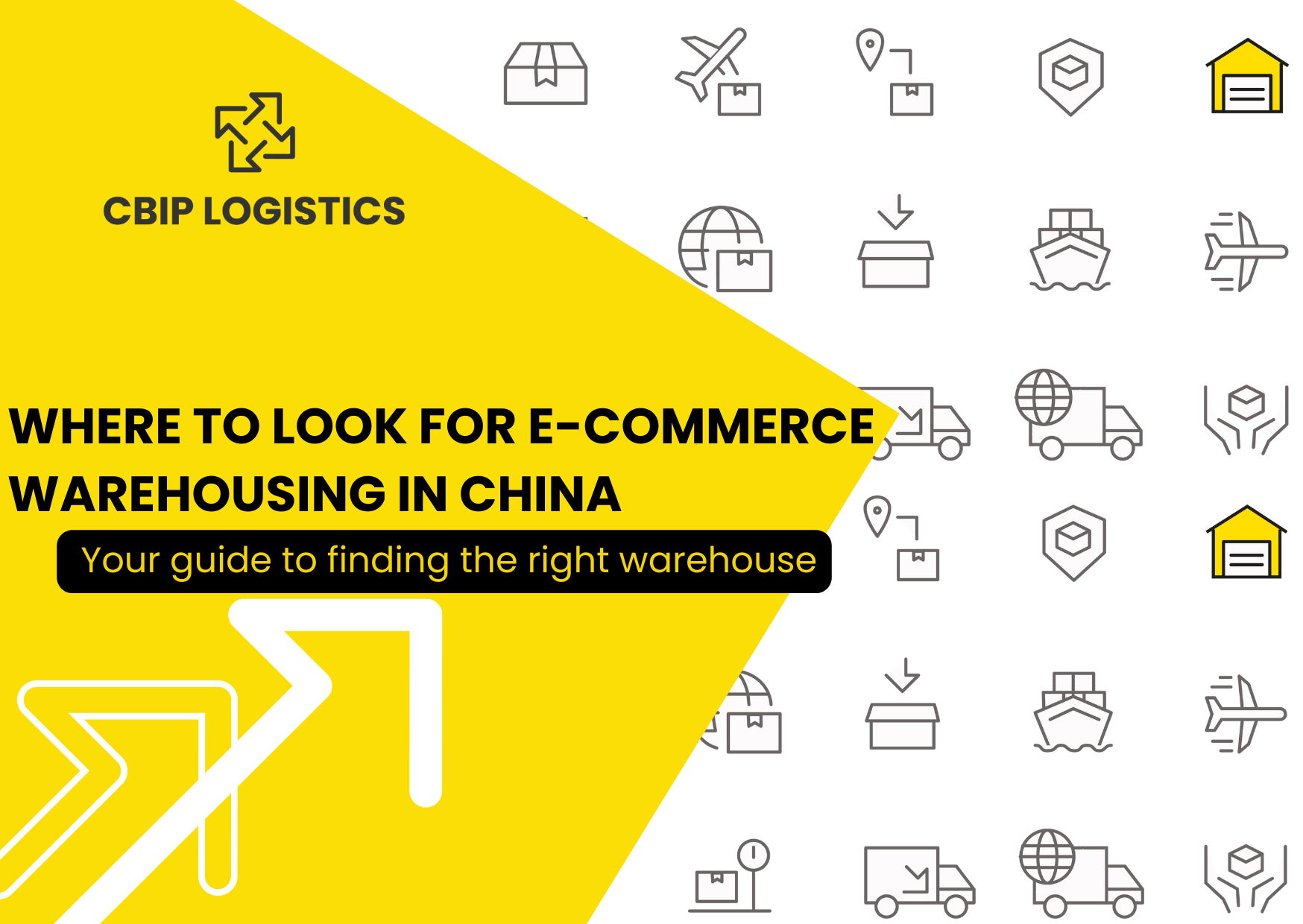 Thanks to the rapid growth of e-commerce, China's logistics sector has seen rapid growth recently, and forecasts predict that growth may continue at a rate of CAGR 7.3% between 2022 and 2027.
Since the logistics industry is so expansive and so many of the world's goods are manufactured in China, it makes sense that retailers would find it convenient to warehouse the product in the region.
There are many reasons why e-commerce sellers choose to warehouse and fulfill in China. Maybe you are looking to expand into a new market, or maybe you have decided to save some money by fulfilling orders in the same region where your product is manufactured.
Whatever your reason, you may start to feel a bit lost when it comes to locating the right warehouse for your needs — particularly in an overwhelming environment like China's logistics industry.
Not all warehouses are created equal, and finding the right one for your fulfillment needs only gets tougher when you are looking at locations far from home.
The Chinese logistics arena is an area with plenty of opportunity and new warehouse space is being built constantly. Although prices are rising, warehousing in China is still the most convenient and inexpensive option for many e-commerce retailers.
However, China is also a notoriously difficult place to do business if you are inexperienced and don't have the right connections. It's tough to get to know providers, and there's lots of emphasis on what the Chinese people call Guanxi, or the system of social networks and business relationships that allow one to conduct business.
Due to the emphasis on creating business relationships and trust in China, it is often best to work with a well-connected and experienced logistics partner who can manage some or all of the processes for you.
Let's jump into how to figure out your own needs, what types of warehouses there are, and who you can work with to make your warehousing in China a success.
Read about CBIP's Adaptable 4PL Logistics Services
The first step is figuring out what you are looking for
When beginning your search for the perfect warehouse, important factors to keep in mind are:
Services
Consider what you need. Do you need a full-service fulfillment center, or just a warehouse to store goods?
Are you experienced enough to manage inventory and shipments in-house, or do you need to work with a 4PL or sourcing agent to help manage all the details for your inventory?
Location
The most popular warehousing locations in China are typically located around port cities, such as Shenzhen, Ningbo, Shanghai, and Guangzhou.
Choose a location near to your manufacturing operations and with convenient access and proximity to ports and other transportation services.
Space
Consider how much room you will take up in a warehouse, and make sure that that warehouse building can accommodate your needs.
For example, if your product is shipped in large containers or oddly shaped, you will need to accommodate for vertical and horizontal space that those items will take up when being moved around the warehouse and stored on shelves.
Consider what will happen if you grow or decide to keep more inventory on hand. Will that location be able to handle that, and will you be able to afford the per-square-meter cost they charge?
Security
What level of security are you expecting for your warehouse?
Depending on your level of risk aversion, you may want to prioritize only working with warehousing and fulfillment providers that run locations with thorough security systems and cameras.
Equipment
Make sure that the warehouse you choose to work with uses equipment compatible with your inventory. If you have bulky or heavy items, special equipment may be needed to maneuver inventory around your warehouse.
Additionally, you want to consider the level of technology used in a warehouse. Tech-enabled warehouses utilize wearable picking and packing tech, automated processes, and advanced tracking and warehouse management systems that can integrate well with your tech.
Using a warehouse with easy-to-integrate tech can mean the difference between falling behind on shipments and having little to no visibility into your own logistics, and optimizing processes and helping your business save money and grow.
Warehouse types:
Fulfillment warehouse
Commonly referred to as a 3PL, this is the best option for e-commerce retailers who want a service that stores and manages their inventory and fulfills orders as they come in.
Customs Bonded Warehouse
These warehouses are a great storage solution for those who want to store imported goods before paying customs duties. You can keep imported products here until you are ready to ship them out to a fulfillment center.
Please note: These warehouses do not provide any fulfillment services— only storage.
Private warehouse
If you want to have and manage your own company warehouse, you can rent a private warehouse.
This option is more costly than other warehousing options, but you are able to have full control over inventory management and fulfillment processes. This is most suitable for large, well-established retailers with experienced in-house logistics teams.
Public warehouse
Public warehouses only offer storage solutions, no fulfillment services. However, if you want inexpensive storage, these are a great option
RELATED: How to Source Logistics and Manufacturing in China
Finding a provider
It can be tough to find accurate information about what services warehouses offer. You can use Google, but the results are not always accurate.
If you want a more effective search tool, go to the Alibaba site. Alibaba has numerous listings for storage and fulfillment services of all kinds.
These can be difficult to rummage through for the perfect match for your business, but for those who have an idea of what you are looking for, you can search based on the category of the service and the location of the warehouse.
If you don't enjoy scouring through search results and can't make it over to China in person to check out warehouses, your best bet is getting a referral.
Just like forming personal relationships in business, word of mouth is powerful in China. If you know a business similar to yours that uses a particular service that they like and trust, working with that service is more than likely your best bet.
However, for those who do not have any business relationships within China, it's a good idea to team up with a partner with those relationships already.
If you are looking for a service to help you with finding a warehouse or fulfillment center, as well as help you with shipping, etc, you will want to work with one of the following types of logistics providers:
Work with a third-party logistics provider
These are full-service logistics companies that will take care of the whole shipping process.
They provide you with a fulfillment center, where they both manage your inventory and fulfill orders for you.
Depending on the 3PL, they may also offer any of the following services:
IT systems integration
Reverse logistics (returns)
Inventory management
Transportation and consolidation services
Work with a freight forwarder
A freight forwarder is simply a general term for a company that provides logistics services but typically does not own assets like warehouses and vehicles.
Freight forwarders function as the middlemen of the logistics world, linking you with different service providers. Services that a typical freight forwarder provides include:
Ocean, air freight, and inland transportation
Storage services
Assistance with import/export documentation and other customs help
Working with a Chinese freight forwarder to find warehousing in China is a great idea, as they will be well-connected with warehousing and fulfillment services throughout the country, and will help you find one that is right for you.
Work with a sourcing agent in China
Similar to freight forwarders, sourcing agents do not typically hold their own assets. Instead, they provide you with a list of pre-vetted warehouses to choose from based on your needs.
The sourcing agent may provide other logistics services, including fulfillment and consolidation, but it will depend on your provider, so please check out their offerings on the company site.
Usually, these agents will not give you any support in terms of inventory management and oversight.
Work with a fourth-party logistics provider
This type of provider sits atop the others, like Uber for logistics.
Similar to a sourcing agent or freight forwarder, they do not own their own assets, but they find the proper storage and fulfillment providers based on your product and location requirements.
The 4PL has a network of providers of all different types which are all connected to the 4PL through technology and managed actively by the 4PL.
In addition to getting you set up with all of the logistics services you need, a 4PL will provide you with data-driven insights on your business through a single platform, and some will even provide you consulting along the way to help meet your goals.
Cut down your risk by working with an experienced 4PL based in Asia
When starting a new venture like warehousing in China, trial and error are often to be expected.
Cut down on the risk of trying something new by working with a company that already has partners who they know:
Are experienced with your product type and requirements
Are trustworthy and a legitimate business
Are willing to cooperate with you to meet new business needs
At CBIP, we are in the business of cutting your personal risk way down. We'd like to set up your logistics operation top-to-tail, with storage and fulfillment solutions that work for you, not the other way around.
On top of that, we will give you all the options that you need when you want to expand your business into new markets— or if something goes wrong with a shipment and you need a quick fix, we are there putting out the fire with a new solution and swift plan of action to get you back on your feet.
If you need some guidance on warehousing in China, we can help. Reach out to us today to get a free assessment.