Where to Warehouse in the UK
Whether you're fulfilling with Amazon or third-party providers, we've got you covered with the best locations.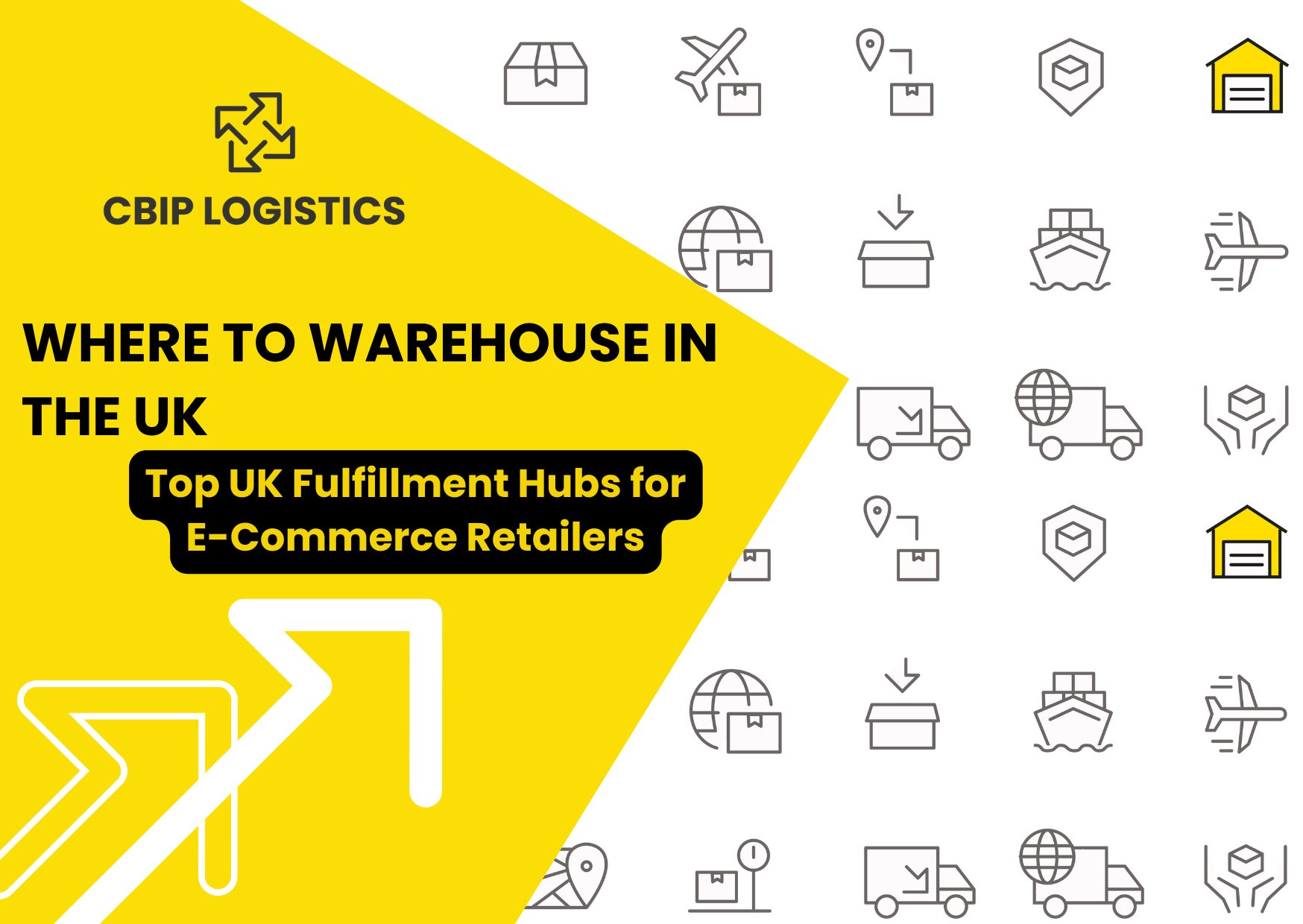 Considering the nation has the third largest e-commerce retail market in the world, optimizing your fulfillment in the UK is definitely worth doing your homework to get it right.
E-commerce makes up an impressive 23% of the UK's total retail sales (for reference, the USA's e-commerce industry only accounts for around 14%). With such a saturated market, it's important to differentiate yourself in any way you can.
Since UK e-commerce buyers have high expectations when it comes to delivery speeds, many e-commerce companies have decided to differentiate by offering fast shipping. If you are a company based out of the USA, for example, that means you need to set up a local fulfillment operation in the UK.
Finding a fulfillment center or warehouse in the UK that works best for your business can be tough. In order to find the right warehouse or fulfillment center located in the right area for your business goals, you need to consider your situation.
Are you looking for an Amazon fulfillment center where you can use FBA services to fulfill orders for your Amazon UK customers?
Are you looking to enter the UK as a new market, and want to see what fulfillment and warehousing solutions are located nearest to your target customers?
Or you may be looking for a fulfillment option located near a major port so that you can sell your products out of the UK to the EU and other global customers more efficiently. Whatever your goals are, we have a few tips to share with you about where to fulfill orders in the UK.
Read about CBIP's Adaptable 4PL Logistics Services
Areas any e-commerce business owner should get to know
The golden triangle
The most famous area for logistics is the golden triangle, a part of the midlands where 90% of Britain's population can be reached within a 4-hour drive. The so-called "golden triangle" spans from Nottingham in the North, down to Birmingham in the West, with its right-hand corner somewhere around Northhampton.
The area contains an estimated 150 million square feet of warehousing space, and it is quite popular among big box retailers like Tesco and e-commerce sellers alike. This region should be on your list if you are looking for a great central location to reach customers in various different regions in the UK quickly.
However, warehousing and labor costs have risen along with the area's popularity, so it is not always going to be the most cost-efficient fulfillment option. For those looking to cut costs, we'd recommend checking out some other areas and comparing.
Milton Keynes in Buckinghamshire
The city of Milton Keynes is perfectly located to serve the London and South East England market, not to mention to access the EU market with fair ease through the chunnel and South England ports.
Milton Keynes is home to a large Amazon fulfillment center, making it a great option for those looking to fulfill to London and South England Amazon customers.
The area is also popular for its affordability, seeing as labor and property costs are lower than in other popular warehousing regions.
Doncaster
Located in the North-central county of South Yorkshire, you'll get closer access to a more northern customer base, while still enjoying a 4-5 hour driving distance to around 87% of the country's population.
In Doncaster, you'll find warehouses for companies like IKEA and Tesco, as well as huge fulfillment centers for e-commerce giants like Amazon and ASOS.
For those seeking faster fulfillment to the north of England, we'd recommend looking for fulfillment centers in Doncaster or the greater South Yorkshire county.
RELATED: E-Commerce Selling Abroad: Should You Choose Localized or Cross-Border Fulfillment?
Things to consider when choosing
When choosing a warehousing location, you have a number of factors to consider.
First, you need to look at the logistics infrastructure for any given region. What couriers will you have available to you, what kinds of warehousing and fulfillment centers are there, and how easy will it be to get your product packed on a truck and headed for its final destination ASAP?
Next, consider storage costs in the area. While areas like the golden triangle may have lots of top-notch options for fulfillment, they may not be the most economically savvy choice for a small or mid-sized e-commerce business.
You'll also need to consider the proximity to your current or intended UK customer base. Are you close enough to offer the shipping times that your customer base expects? Regardless of how many miles are between the warehouse and the customer, will the regional infrastructure be dependable enough to ensure timely order delivery?
Finally, you need to consider your proximity to transportation hubs — whether you are importing products or fulfilling cross-border to the EU, you need to make sure you have consistent access to a port, and backup plans in the case of disasters like port closure.
Team up with a 4PL that manages fulfillment A to Z
All of this can be overwhelming, particularly for an overseas business owner who may not have even set foot in the UK before.
We have one more recommendation for fulfillment in the UK — work with an experienced global 4PL like CBIP who can set up all of your UK logistics through a network of tried-and-true fulfillment and warehousing providers.
At CBIP, we not only build your entire logistics operation tip to tail, in the UK and anywhere else you choose to set up fulfillment operations; we also manage the whole thing for you.
CBIP will be there with you every step of the way, acting as a collaborative partner to combine your business goals with our logistics industry experience to help your business flourish.
Selling on Amazon UK marketplace? We offer personalized FBA prep services, taking care of everything from the moment your goods leave the manufacturer, to their arrival at the Amazon fulfillment center of your choosing.
Want to learn more about our personalized global logistics plans or FBA prep services? Give us a call today for a complimentary logistics consultation.