E-Commerce Peak Season 2023 Predictions and Important Dates to Keep in Mind
Are you ready for peak season? See what trends are going to affect e-commerce over the next few months.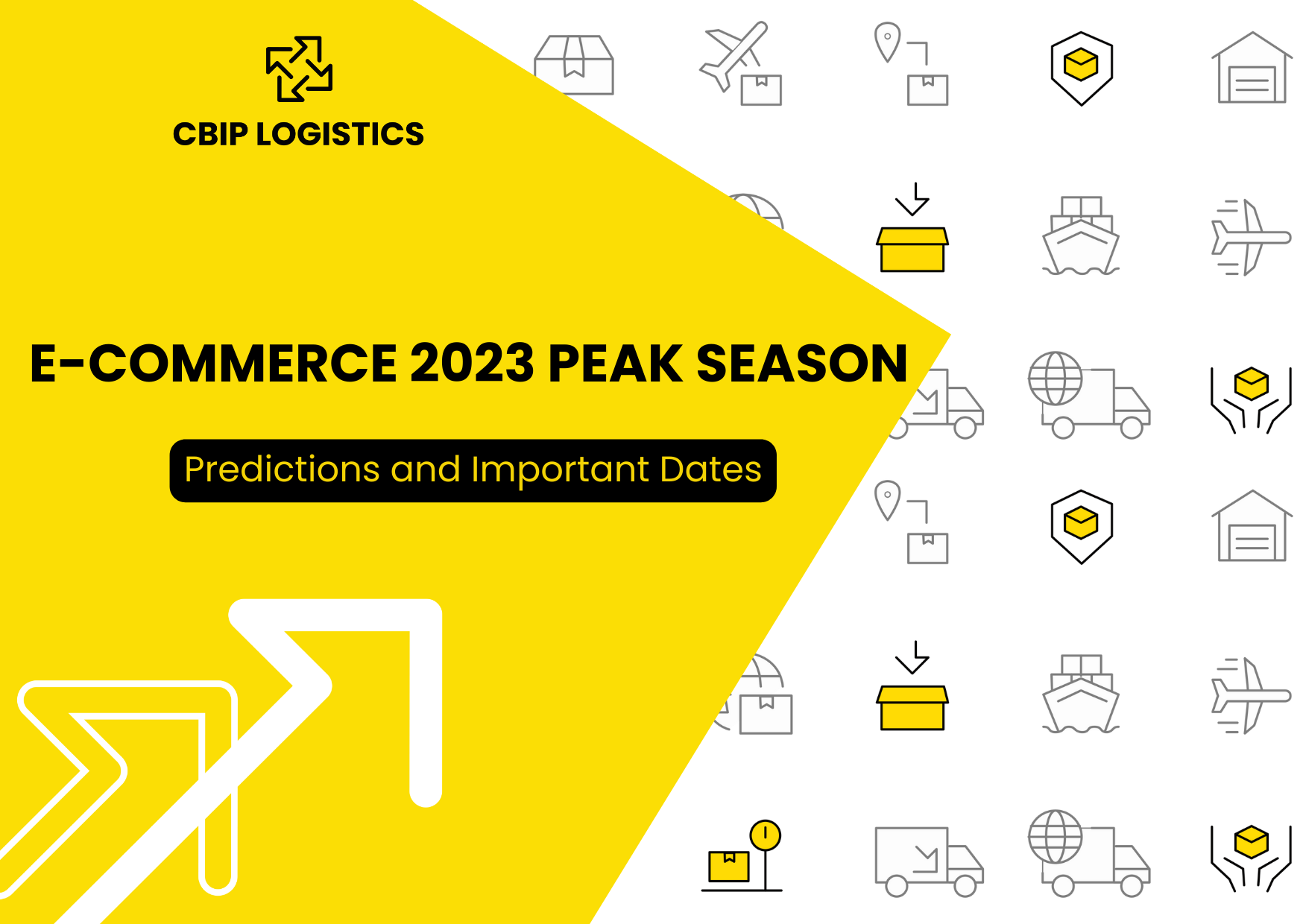 Since the majority of the best selling days in e-commerce happen during peak season, it's important you as an e-commerce retailer have a game plan.
We have first some tips for a prosperous peak season, and then a little bonus info about the dates to watch for.
Read on to make sure you are prepped for the season!
Predictions for 2023 peak season
While forecasts for online sales this peak season aren't going to hit pandemic highs, there's no reason to be gloomy.
There are still plenty of sales to be made. Just keep in mind: high marketplace competition means you will need to be strategic to win customers.
On that note, here are a few important things to consider this peak season.
Read About CBIP's Global E-commerce Logistics Services
Prediction 1: Strategic sales will be important to attract buyers early
Planning sales and events around holidays is a strategy as old as time. The million-dollar question is: How do you do it effectively?
While holiday sales events used to take place a month or two before the holiday, these sales are now beginning earlier and earlier every year.
For instance, many retailers last year rolled out holiday shopping sales as early as October. Competition is high, and those who advertise sales early and strategically are most likely to be the winners this holiday season.
However, studies show that having too many sales can actually have an adverse effect on revenue. When you have too many sales events back-to-back, customers start to question the quality of your brand and may go elsewhere.
Prediction 2: Bundling strategies will be used to get rid of excess inventory
If you don't feel like slashing prices to entice buyers this holiday season, consider bundling as a different way to offer added value to your buyers.
Bundling has long been a great way to sell less popular products while providing your customers the opportunity to save money while trying something new. Plus, bundles make great gifts.
Trying to figure out a bundling strategy to boost sales? Check out this article we did on bundling strategies.
Prediction 3: High inflation means customers are hunting for the lowest prices
Inflation remains high in much of the world, meaning that consumers are on the hunt for discounts in the 2023 holiday season. While this could mean losing margin, you need to focus on winning those customers.
Offering a couple of different shipping options can also help. Award customers who shop early and during sales events by offering free or discounted shipping. This will decrease the likelihood of last-minute cart abandonment, and encourage customers to return.
RELATED: How To Prepare For Peak Season as an E-Commerce Business
Dates to Keep in Mind
Single's Day (Beginning of November-November 11)
China's cheeky anti-Valentines Day retail holiday racked in an estimated $157 billion in 2022.
While the sales holiday started in 2009 as a one-day event, Single's Day promotions now start as early as late October.
For those taking part, self-care product categories are among the highest sellers for the holiday — After all, the holiday is meant to cater to single people who want to show themselves a bit of love!
If you're looking to take part in the sales, some of China's most popular sales platforms are:
Black Friday & Cyber Monday
Black Friday started out as the big sale event to kick off Christmas shopping in the US. These days, Black Friday sales roll out globally and can be seen starting in October.
While many are looking for Christmas or other holiday presents for loved ones, the holiday is also generally an open season for sales. The top-selling product categories typically include video games, toys, electronics, and jewelry.
Christmas
Whatever your religious beliefs, Christmas has become a huge retail holiday in many countries around the globe.
While Black Friday and Cyber Monday may kick off Christmas season spending, there are still plenty of last-minute holiday shoppers who will be looking for gifts for their loved ones well into December. One study by payment app Klarna showed 79% of those surveyed left their holiday shopping within 2 weeks of Christmas day!
To entice these unprepared shoppers, consider offering 2-day or expedited shipping during December.
Scratching your head over peak season strategy this year? Team up with CBIP to start strategizing for the new year!
If you struggle to deliver on shipping promises when demand goes up around the holidays, you aren't a logistics failure — you probably just need an experienced logistics partner.
When you partner with CBIP Logistics, you get just that. We put together your logistics chain for you, choosing the right providers from our own network.
We like to emphasize that CBIP wants to work with you as a trusted partner. That means no more shoddy customer service and no more one-size-fits-all logistics solutions. We work with you to find out what needs to be done at every step, and we execute.
Get in contact with us today to discuss what we can do together to get your e-commerce logistics more agile and reliable.